An embarrassment of riches. No, we do not talk about a huge assortment of products on the shop shelves. We talk about the enormous number of multipurpose solutions. It is hard to find a person who will be dissatisfied to use one single thing to complete different tasks. In this case, it would be to the point to mention these very words – to kill two birds with one stone.
It is completely true that universal templates assist people in building multitudes of online-projects. When it is easy to customize and work with a theme, it becomes possible to create a bunch of different websites. They can present totally opposite niches but these online-projects will be united by one fact. It was extremely easy to create all of them.
Today we want you to get familiar with a brand new version of Monstroid2. Yet it would be better to do it in a little bit exciting form. What about a comparison of the most popular multipurpose themes for WordPress? In such a way, we decided to write the article that will provide you with all necessary information about three ready-made themes. Get ready to find out more about Monstroid2, Divi, and Avada.
In order to make you even more intrigued, we want to say that you will find a marvelous infographic at the end of this article. It will make it easier to make your choice and start building various online-projects together with the best multipurpose theme ever.
Okay, enough words – we know that you want to get down to business. Let us start with the description of the Monstroid2 update that should definitely take your breath away (in a figurative sense, of course).
Monstroid2
If we tell you every single detail about the newest Monstroid2, this article will turn out to be an endless flow of words. For this reason, we offer you to get familiar with fresh features that make it possible to build a professionally-looking website.
1. Design
Elementor Builder
First of all, you need to know that a duo of Elementor Builder and Monstroid2 can be called force itself. The previous version of this very template came alongside with a pretty nice Power Builder. Yet there was one little problem regarding this website builder – its customization options lead to kind of identical results. As you can understand, it turned out to be important to find another worry-free solution.
These days Monstroid2 gladdens its users with a powerful Elementor Builder. Have you ever thought that it would be amazing not to work with code? Have you ever thought that it would be incredible to get your online-project ready in a flash? In this case, this mix is created to make a direct hit.
500+ sections and 20+ skins
Nowadays magic lives not only in books and movies. It can be found even in various multipurpose templates like Monstroid2. For example, it comes together with a great Magic Button. When you click it, you will get into a huge land of eye-catching 500+ sections and 20+ skins. If you want to use a section from the particular skin on the particular page, you are free to do it.
By the way, it is crucial to notice that magic is not over with this feature. You will get newly-crafted skins and sections each week. This means that you will be ready to create even more impressive and remarkable online-projects.
2. Size and speed
To start with, Monstroid2 weights only 250kb. If you dream of the smooth performance and quick load time, this ready-made solution can be called your appropriate variant. In addition to this, there is no need to choose the most expensive hosting in order to launch your future website. It is possible to make use even of the cheapest one and make your online-project work at its best. This guide will help you choose the best hosting provider for you.
3. JetPlugins
You will also get a collection of top-notch plugins created for different specific needs. The names of these additional options will allow you to find out what purposes they serve.
JetBlocks
JetTricks
JetWooBuilder
JetTabs
JetParallax
JetReviews
JetMenu
JetElements
JetBlog
4. WooCommerce
If you decide to sell goods on your website, a powerful WooCommerce integration will assist you in this case. You can make custom product pages and make the most out of your online project.
Download Monstroid2 Get Hosting for Monstroid2
Divi
Divi is a multipurpose solution that is considered to be a combination of the attractive look and different fully-functional options. If you decide to choose exactly this template, you will get the following options:
An understandable and clear documentation that will assist beginners in building a website. This means that not only leaders in their profession can create unforgettable websites but amateur-designers, too.
An excellent Divi Builder that will make it possible to build nice-looking pages. In such a way, you can play around with colors, fonts, and many other elements of the website.
A bunch of multiple modules that will allow you to build the best online-project ever and provide with marvelous functional tricks.
Lots of ready-made page templates designed for the most widely-spread niches.
You will also get frequent updates that will give you some brand new page templates and options to work with.
Download Divi Get Hosting for Divi
Avada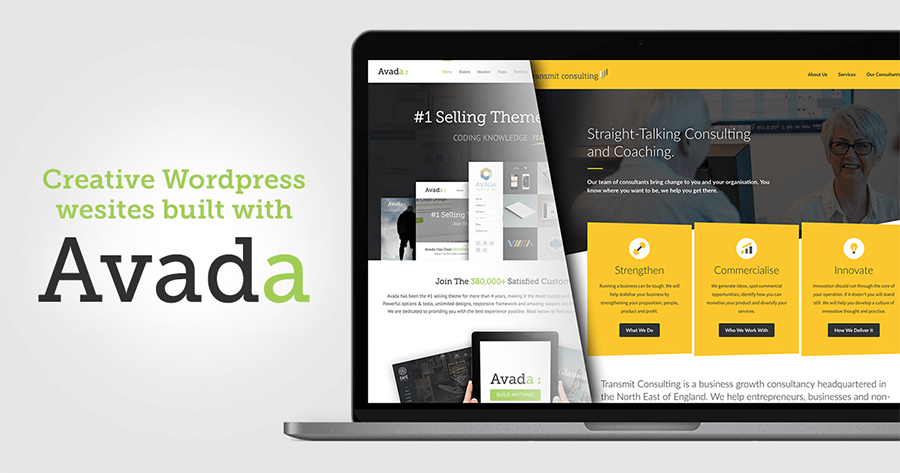 Avada is an incredible theme that will catch your eye with a wide range of pre-built layouts, customization opportunities, third-party plugins, and many other amazing features. Among them, it will be possible to take advantage of:
Lots of demos that you can install without any efforts.
It also gives the opportunity to launch an impressive online-projects to everyone. Both beginners and professionals will be happy to make use of different features and build a splendid website.
If you are interested in getting a great eCommerce website, you will get various fully-fledged WooCommerce options. In such a way, your customers will be provided with a stunning shopping experience.
In order to spice your website up with some additional functionality, you can make use of powerful plugins included in the package.
A stunning Fusion Builder will give you a great drag-and-drop functionality that will save you lots of time.
Download Avada Get Hosting for Avada
Now you can take a glance at the infographic in order to compare these three templates regarding different aspects.
In conclusion, we want to say that all of these templates have lots of visible advantages. It is completely your decision which one you will choose. Yet pay attention to a number of customization options, flexibility, additional plugins, and other options included in the package. In such a way, you will understand which one can become your assistant in getting a wonderful website. We wish you to build the most stylish website ever and thanks for reading!
---
About the Author
This article was submitted to us by a third-party writer. The views and opinions expressed in this article are those of the author and do not reflect the views and opinions of ThisHosting.Rocks. If you want to write for ThisHosting.Rocks, go here.