Exabytes
Starting at $1.99/mo
Exabytes is a web hosting provider that's been in business since 2001. They are one of the best web hosting providers in Southeast Asia. Read our review of Exabytes here.
About Exabytes

With the experience of more than 20 years, Exabytes is a leading web hosting provider globally, but especially in SEA. They withstood the test of time, and did more than that in the 20 years they've been in business. The awards and reviews they get are proof of that.
Exabytes data centers
As of writing, Exabytes have 4 data center locations to choose from. 3 of them are located in SEA, and 1 is located in the US:
US data center – located in Denver, Colorado. They've been using the data center since 2015.
Malaysia data centers – located in Kuala Lumpur, Malaysia, which is PCI DSS certified, and another one in Penang.
Singapore data centers – one is located in the city's center, and the other one is located at Tai Seng Drive.
Indonesia data center – located in the Kuningan area, South of Jakarta. The data center has been operating since 2009.
Their choice of various top-quality data centers in the SEA area is a great option for customers that need better Asian web hosting. Although if you're targetting US visitors, they still have the US server location option.
Exabytes apps
One of the many things that set them apart is their phone applications. Available for both Android and iOS, you can use the apps to manage your account, pay invoices, get support, and get exclusive deals and rewards.
More than web hosting
Exabytes offer more than just web hosting services. This includes, but is not limited to:
SEO services – starting at $300 per month
Facebook Ads – starting at $240 per month
Microsoft 365 – starting at $5 per month per user
Email marketing – starting at $45.83 per month
and more. Web design services, HelloSign, and more apps and services to choose from.
Aside from your web hosting, you can also use Exabytes to manage your marketing. It's a one-stop solution for your online presence.
Web hosting plans
They offer different web hosting plans that you can choose from. Whatever suits your needs the best.
Shared hosting
Reseller hosting
WordPress hosting
Dedicated server hosting
VPS hosting
and more
You can also get SSL certificates and domains from Exabytes. They really do offer everything you'd need. Most web hosting plans include a 100-day money-back guarantee, which is a complete rarity in the web hosting business.
Exabytes WordPress hosting plans
We'll focus on their WordPress hosting plans, which are powered by the Plesk control panel and the popular WordPress toolkit for Plesk. You can use the panel to manage the WP websites themselves – including updating and managing plugins and themes, using FTP, configuring SSLs, and more.
Starting from $1.99 per month for 30 websites, it's a pretty good deal considering many other hosting providers limit you to one website per plan for a more expensive price.
All their WP hosting plans include lots of free perks and extras. Some plans include free daily backups, managed support, a free SSL, a free domain, and more.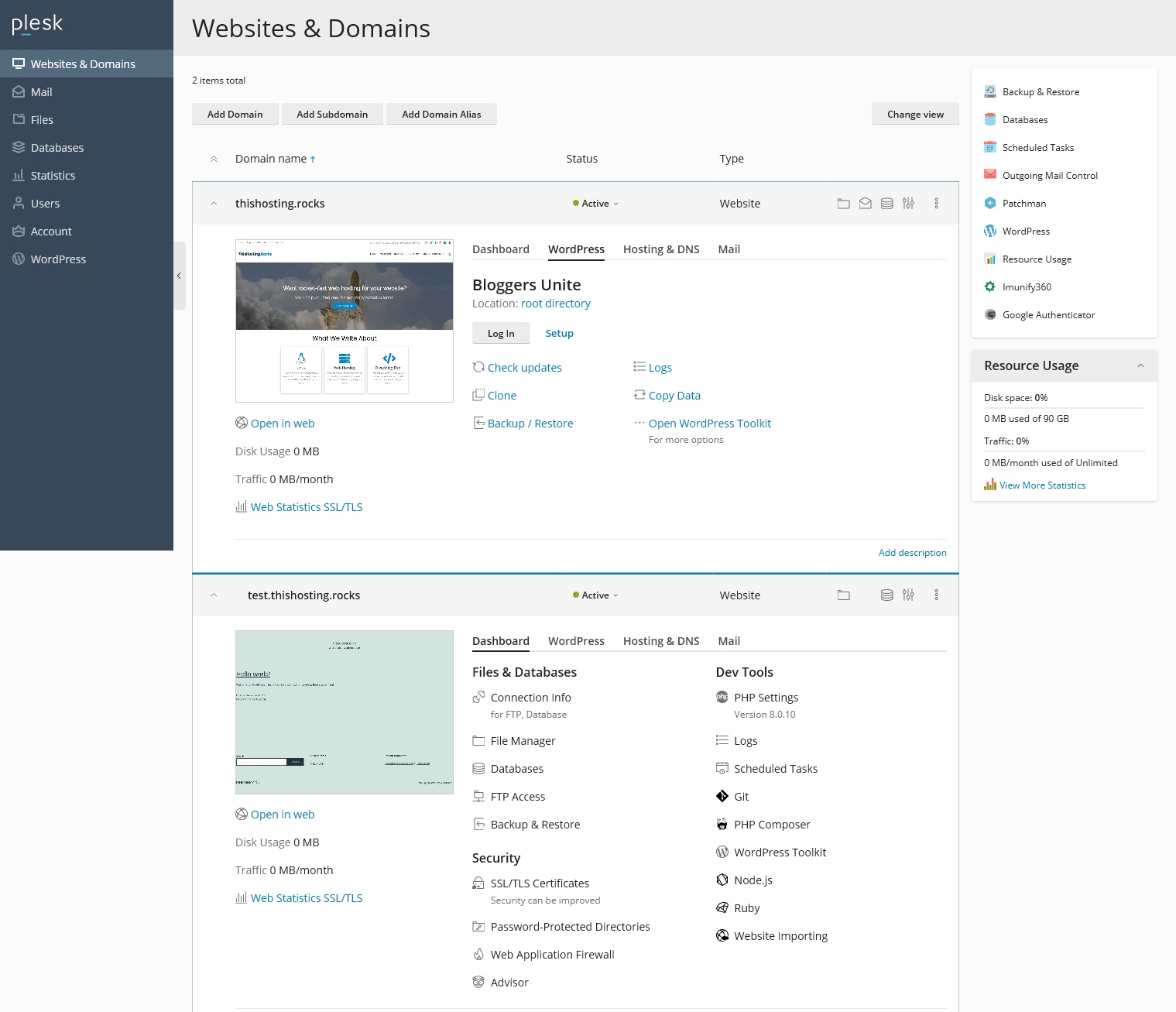 Powered by LiteSpeed cache and SSD for speed
Their WP hosting plans use LiteSpeed servers and LiteSpeed cache, which greatly improves the speed of your websites, along with the SSDs.
A free domain with their plans
If you continue using the web hosting plan you bought at Exabytes, you'll get to keep the free domain you get. All WP hosting plans except the cheapest one gets you a free domain name.
Flat renewal rate with all their plans
The renewal rate is the same as the signup rate for all their plans. No surprise invoices, no price hike ups. You'll get the same flat rate forever.
Free daily backups with their plans
All their WP hosting plans, except the cheapest one, include free automatic daily backups. A really useful feature, and it's great that's included for free. With their cheapest plan, they are free weekly backups, which is still a lot better than most other hosts.
1-click installation of WordPress
Installing new WP sites can be done with a single click.
WordPress Toolkit features
They're using Plesk with the WordPress toolkit, which is an amazing tool that gives you lots of extra features for your WP websites. Including, but not limited to:
Easily clone and create staging websites. With a couple of clicks.
Enable automatic updates with a single click. There's also the "Smart Update" feature which is great. It clones and tests the website after the updates. The tool then gives you screenshots (before and after) and you can decide if you should update or not. This is one of the most useful features for WP admins.
Enable hotlink protection with a single click.
Manage plugins and themes from the panel. You can install, remove, and manage your plugins and themes straight from the WordPress toolkit.
…and more. The WordPress toolkit is full of useful features that make it easy for everyone to install and maintain websites.
Their WP hosting plans have a lot of features and free extras. Considering this along with their affordable pricing and flat renewal rates, it's a great deal.
What we don't like about Exabytes
Although it's obvious that their main focus is SEA and the US, it would be great if they offered more server locations aside from the US and SEA. More specifically, a European server location would make a great portfolio of data centers.
It's a good choice and an option to have – but their SEO and marketing services may not be the best of quality, considering that their focus is web hosting. We haven't personally reviewed the services, so we can't say for sure. Their web hosting is great, but the marketing services would have to be tried and tested by yourself.
The advertised pricing for all hosting plans is usually for a longer billing cycle (1 year or more). This is standard for pretty much all hosting providers, so users tend to already be familiar with these kinds of marketing tactics when choosing a host, but it's still something worth pointing out.
Conclusion on our Exabytes review
If you're looking for web hosting and would like to use one provider for web hosting as well as domains, and even marketing services, then Exabytes is a perfect choice.