Hostinger
Starting at $3.95 per month
Pros
Fast
Helpful 24/7 Support
Accepts Cryptocurrencies
Cheap
In Business Since 2004
Cons
No Let's Encrypt Installer
Minimum Billing Cycle is 3 Months
Advertised Pricing on Homepage is Based on Long Billing Cycles
Hostinger is a web hosting provider that's been in business since 2004. They offer web hosting with a unique set of features supported by a quality 24/7 support team.
First, a little bit of history before going into the Hostinger review
Like we mentioned, the company behind Hostinger has been in business since 2004. So they've withstood the test of time. There aren't many providers nowadays older than a few years. New hosting providers are popping up daily.
You may have heard about some of their other brands, including 000webhosting (which is a free hosting provider), and Hosting24.
Hostinger itself (as a brand) was started in 2011 and has grown a lot through the years.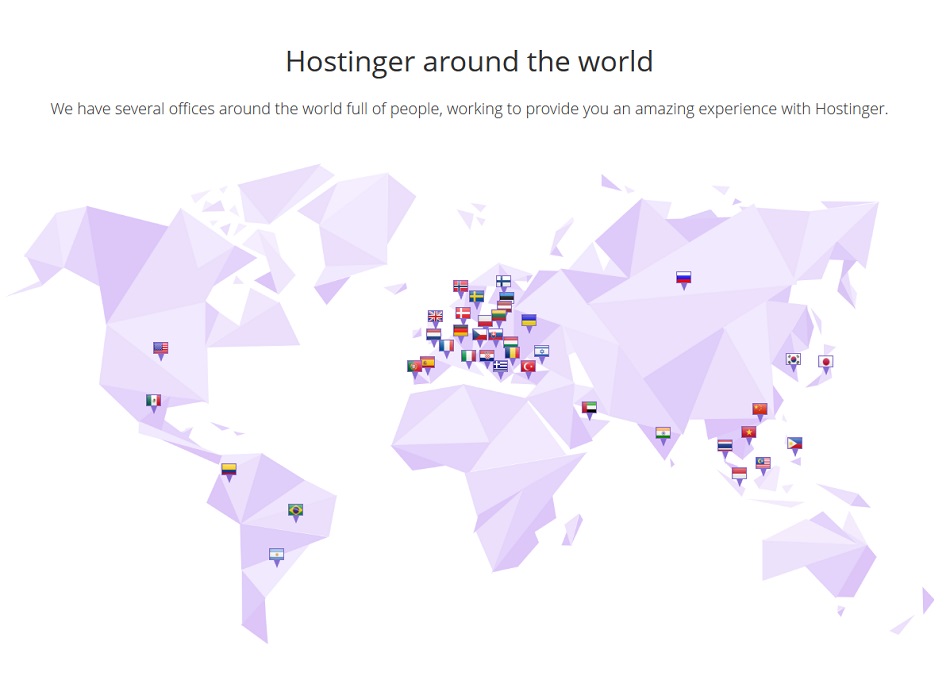 They have offices all around the world, which ensures that a support agent will surely be available any time, since they've covered all time zones.
But enough about the company itself, let's move on to Hostinger's plans and pricing.
Hostinger's Plans and Pricing
Pricing – the first thing everyone sees, compares, and notices.
Shared Hosting Plans (a.k.a Web Hosting)
Let's start with their shared hosting plans (known as "web hosting" on their website).
Their cheapest shared hosting plan starts at $3.95 per month, but you have to commit to 3 months from the beginning. Which kinda sucks. The advertised $1.45 per month price on their homepage is based on the initial price with a larger discount, which also sucks but most (if not all) hosting providers do that, so we'll let it slide. It's pretty common nowadays and everyone's used to it by now. A good thing about it is that with longer billing cycles you can get a free domain name. Which is something. Make sure you check the actual renewal price before signing up
Fortunately, they have a 30-day "no questions asked" money-back guarantee so feel free to get any plan you want to. If you're not satisfied, you can cancel and get your money back.
Same goes for all other shared hosting plans. The minimum billing cycle is 3 months at a time, and the advertised price on their Web Hosting page is the 36 months price.
As for what you actually get with the plans – it's pretty standard. Their cheapest plan is pretty limited, but it's okay for a single website. Their more expensive plans are unlimited. Beware of "unlimited" bandwidth and disk space though. It's not really unlimited. Once you start using the resources more than "you're supposed to", you'll get warned or deactivated.
Business Hosting (a.k.a Cloud Hosting)
They also offer Business Hosting plans, which are essentially a mix between shared and cloud hosting. You get a dedicated IP and dedicated server resources. The servers are fully managed with integrated caching. Migrating from a shared hosting to a business hosting plan is pretty easy. You also have a 24/7 support team to help you if you get stuck.
For the actual pricing, similarly to their shared hosting plans – the lowest billing cycle available is the 3 months one. The advertised price on their Business Hosting page is the 36 month one.
Their cheapest Business Hosting plan starts at $23.98 per month and you have to commit to a 3-month billing cycle from the start.  For the fact that you get 3GB RAM, 2 CPU Cores, and 40GB SSD space, the $24 price point is actually pretty cheap. At least compared to other cheap Managed VPS providers.
They have a custom (easy to use) control panel with their Business hosting plans, and a helpful 24/7 support team. We actually recommend going straight to the Business hosting plans if your budget allows it. With that kind of pricing you don't really have to sacrifice on quality and resources with shared hosting when you can get cloud hosting.
VPS Hosting
Hostinger also offers Linux VPS hosting. You should get these hosting plans only if you know what you are doing. They're unmanaged, though their 24/7 support team will still help if you get stuck somewhere. You get full root access so you're free to install and use anything.
Their cheapest VPS plan starts at $9.95 per month, and this is the actual monthly price, where a month-to-month billing cycle is available. The advertised $6.09 per month price advertised at their VPS hosting page is based on a 60-month billing cycle. Which I'm sure no person is going to commit to such a billing cycle, even if they're in love with their services. $10 per month for a 1GB RAM server is pretty expensive, at least compared to other popular cloud hosting providers. It may be worth it if you're already used to Hostinger and their control panels, but they're still stuck in last year's pricing model. Most major cloud providers moved on to half of their pricing. So you're probably better off with another provider if you're looking for unmanaged VPS hosting.
All in all – their pricing is pretty good and fair for their shared and cloud hosting plans. The actual plans have great resources and offers, and you get a bunch of extra features with each plan. The minimum quarterly billing cycle sucks, but we can look past that considering they have a 30-day money-back guarantee.
The Sign-Up Process
Signing up is pretty easy and standard. You choose the plan you want, you fill in your data, choose a domain (either use an existing one or get one from Hostinger), and you start working on your website.
Beware of the automatically-checked addons during sign up, specifically the SSL and CloudFlare add-ons. If you don't really need them, you don't have to get them. So uncheck them before proceeding with the sign-up process. And of course, select the billing cycle that works best for you. We usually recommend getting the lowest billing cycle available. If you've already tried them and like them, you should go with a longer(longest) billing cycle and get a discount.
Once you're done setting up your account, you're welcomed with this page:
Which makes it pretty easy for beginners to get started, and you get an idea of what they actually offer.
Benchmarks, Speed Tests, Performance
Another important factor everyone considers – the speed. Their actual website and control panel are fast, unlike other hosting control panels and dashboards we've tried.
We used their cheapest shared hosting plan for testing purposes. We installed WordPress using their Auto Installer and didn't do anything else. We didn't set up caching, we didn't configure anything extra. The default WordPress homepage fully loaded in 1.172 seconds. Which is amazing. It's actually faster than other WordPress hosting providers we've tested using a similar test setup. We definitely didn't expect this good of a result, especially considering it's shared hosting.
Our testing method
Our testing/benchmark method is by no means an advanced one. It's not even a valid one, considering we don't really test everything and we only use a simple, default WordPress page. However, we used a pretty similar test for other hosting providers and we got a better result from Hostinger. If you really want to test them, you should set up a complicated website or use a benchmarking tool.
Since we were using an EU (Netherlands) location for our shared hosting plan, we chose an EU location from WebPagetest.org. We tested the default homepage of a default WordPress install. You can get the full details about this test here.
Customer Support, Helpdesk, and Knowledgebase
We have nothing but good things to say about this. Starting from their 24/7 support team, which are obviously available 24/7, and are very helpful and nice. We contacted them via live chat and got a response in a couple of minutes.
They have an extensive knowledgebase full of information about pretty much anything, so you don't really have to contact them to get the info what you want. But like many, we also prefer getting an actual hands-on human touch when getting help. 🙂
You can also contact them via tickets, which we recommend if you're contacting them about something more complicated or serious. It's easier to keep track of. You can get pretty mixed up and overwhelmed when using live chat for a complicated PHP error issue or whatever it is.
They even have community support for some of their brands.
Features They Offer and Features That Set Them Apart
We won't go into details about the standard features you get with pretty much any hosting provider like:
automatic weekly backups (daily backups are a paid add-on)
24/7 support
auto (one-click) installer for popular apps
free migrations
Here are some features that you don't see every day:
A page builder
Sure, you do see many hosting companies offering a page builder, but Hostinger's website builder is built by themselves and fully integrated into their control panel and their hosting plans.
This is what it looks like:
It's pretty easy to use, especially for beginners. Has several templates to choose from too. And it's free.
Pay with cryptocurrencies
Other than PayPal and credit cards, you can also pay with cryptocurrencies. They started offering this payment method this February.
PHP 7.2 support
Although many hosting providers started using PHP 7.2 in their control panels, it's still common for some NOT to use PHP 7.2. Hostinger offers PHP 7.2 and you can easily switch versions through their cPanel.
They offer other features too, but you should explore their website to learn more.
Active employees in the communities
This isn't really a feature of their hosting plans, but their employees are active in most web hosting, developer, WordPress, and other similar communities. They're nice and helpful. It's always good to see them representing themselves and helping other people out for free. Some may say they do it for the promotion of their brand, but at the end of the day, who cares? If they actually help people, they deserve the promotion or whatever it is they get.
What We DON'T Like About Hostinger
We did a detailed review of everything they have to offer, tested pretty much everything. Here's what we don't like about Hostinger:
No easy Let's Encrypt installation
They don't offer an easy way to install and renew Let's Encrypt, or any other free SSL certificate for that matter. Most hosting providers offer a free SSL with an easy way of installing and auto-renewing it. With Hostinger you have to actually manually install and renew Let's Encrypt. But they have a tutorial for that, which is something. I guess it's a way to push their paid SSL certificates, but still. Everyone offers an easy and free SSL nowadays.
Their 3-month minimum billing cycle and misleading homepage pricing
We already mentioned this in the pricing section, but you have to go for at least a quarterly billing cycle with their Web and Business hosting plans. It's not that much, and you do get a 30-day money-back guarantee, but still. At the end of the day, they don't have an actual month-to-month billing cycle.
They advertise certain pricing on their homepage and plans pages, but that pricing is actually based on a longer billing cycle. It's not misleading per se, if you're nitpicking and getting technical, since that is the actual discounted price you'll get. But it still says $X.XX per month, which leads visitors to think that it's the actual price they'll pay per month. In reality, it's a price per month for 12, or however-much months they have to pay in advance. This is pretty standard and pretty much everyone does it, so people are used to it by now. They'll see their actual pricing at the sign-up page anyway. It just bugs us personally, I'm guessing other people don't really care about this. They should at least add a notice, an asterisk or something saying that the price is based on a longer billing cycle.
Other People's Reviews
So that's about it for our review. Here are a few positive and negative reviews for Hostinger so you can compare other people's opinions:
Hostinger has been great so far.. 24/7 support as well

— Ameerah Ahmine (@icy_meerah) March 8, 2018
I use Hostinger, not 100% sure of the quality of the hosting but the tech support is great, it supports ftp and all that technical shiz

— ChrisHazFun (@chrishazfun) May 10, 2018
Me he cansado. Me voy de @godaddy, me he cansado de páginas de soporte inalcanzables debido a enlaces rotos, pero la gota que ha derramado el vaso ha sido dedicar 2 horas intentando instalar mi SSL de @letsencrypt. He pensado en ir a @HostingerCOM . ¿Alguna recomendación? Gracias

— eva 🇪🇺 +=+= (@lavigi) June 8, 2018
Why use Hostinger when their email service goes down every week

— VLADIMIR HOF bound (@HofVladimir) June 11, 2018
I've been chatting with support for the past 3 days. Just words, no action. Looks like it's time to change hosting provider and give hostinger a bad rating.

— Samson Says (@SammyBoogeyman) May 5, 2018
I am so done with hostinger. Every time I post an article, shit's going down and crashing. >:(

— Karl Christopher Cristobal (@karlsanada13) April 27, 2018
Check each tweet's page to get the full thread and everyone's replies.
Please leave a review for Hostinger below.