A domain name provides you an entry point to the online world. You cannot build and maintain a website without a domain name. It gives an identity to your brand for which you are creating a website and your website will be known by this domain name for times to come. For instance, our domain name can be found in the address bar of this web page.
Our website is known by this name both among people like you and search engines like Google. So, a domain name becomes the identity of a website just like our names provide us our identities. It is, therefore, essential to select your domain name wisely since you cannot change it later.
Saving money on domain names
With the growth of the internet and its accessibility around the globe, millions of websites have emerged online in the last decade. This has led to the entry of dozens of domain name providers into the domain market. An increase in competition among the domain name providers has worked in the favor of people like us who want to get the best domain name deal for their websites.
A little effort can save you a big amount especially when you are planning to add multiple domains to your online portfolio in the long run. Though for a person owning just a single website, it might look like just a few-dollar savings but don't forget the age-old phrase, "A penny saved is a penny earned". Even little savings on a single domain purchase and renewal will add up in the long run.
How to save money while buying a domain name?
Since buying a domain name is your first step towards building your new website, taking this step in the right direction is of utmost importance. You can buy a domain name for just a few dollars or spend millions of dollars depending on the inherent value it possesses.
However, for most of our domain name requirements, one can find a suitable name at a reasonable price that lies under $50. You might be offered the same domain name for a price of $10 by one domain name provider and $20 by another. That is why I'm here to discuss different ways to save money while buying a domain name for your website:
Checking the credibility of the domain name provider
Before signing up with a domain name provider, it is recommended to check its credibility from the reviews of its existing customers. With the growth of the domain name business, many new companies sprung up regularly and offer great deals for luring new customers. Many of them are not able to stay much longer in the business and some of them are even frauds.
So, the first rule of saving your money while buying a domain name is not to fall into the trap of such fraudsters or inexperienced newcomers. Carefully examine the credibility of the domain name providers before you buy domain names from them.
Grab a free domain
Because of increasing competition in the domain and hosting business, many top-level domain name providers offer a free domain with their web hosting plans. For getting a domain name without spending anything out of your pocket, consider buying a hosting plan for your website that offers a free domain name along with. It will be the best savings you can make while registering a domain name since you do not have to pay a dime.
Check the hidden fees
It is always worth the effort to examine carefully whether the domain provider you have chosen charges any costs that are not mentioned explicitly i.e. the costs that are hidden. Such costs can be problematic in the future as you will be charged without any prior notice. To find out the hidden domain name costs, you can ask the customer support team of the domain provider for any additional costs charged apart from the ones mentioned on the provider's website.
Another way to know about such hidden charges is by reading the experiences of the existing customers at various discussion forums and third-party review websites. It will also give you an idea of the service satisfaction level that is felt by the inner circle. Therefore, avoiding all the hidden charges will result in savings while buying a domain name for your website.
Search and utilize coupon codes
You must have come across websites offering coupon codes for several purposes. Few such sites also offer coupon codes with exclusive deals on domain purchases. It is extremely easy to find such coupon sites for domains by doing a quick Google search like this one:

Just replace 'Namecheap' with the name of the domain provider you desire a coupon code for and 'April 2021' with the current month and year. You will see several websites with numerous coupon codes in the search results. I'd recommend you trying the ones that have been recently used by other users. For instance, the one displayed below was last used two days ago:
You might sometimes find expired coupons on such coupon-providing websites. You will get to know it while applying the code on the checkout page of the domain name provider. That is why I mentioned the above technique of using the recently tested coupon codes as it reduces the time spent in trying out different codes.
In my opinion, it is completely worth the effort finding out such special discount coupons since you can make great savings with the use of such codes.
Recommended read: Namecheap Review
Booking a domain for a long tenure
When you buy a domain name, you will notice that many domain name providers offer better discounts with long-term domain booking. If you are planning to stay in the online world for a long period, it is best to book your website domain for a longer tenure for huge savings. In addition to the financial savings, long-term domain booking also saves you from the stress of domain renewal invoices for a very long time.
Wait for special occasions
Many domain name providers offer great discounts to attract new customers on special occasions like Black Friday, Cyber Monday, Christmas, and more. If you are already planning to develop a website, grabbing a discount deal on such occasions will help you save a lot of money.
Even if you haven't yet started preparing a concrete plan for your website but are determined to own and maintain one very soon, I'd highly recommend thinking upon a suitable name for your website and purchase the domain when the highest discount is offered around some special occasion. You will notice a big difference in the domain price as soon as the offer ends.
Now that you know a lot of ways to save money while buying a new domain name, let us move forward and talk about the savings that can be made during the domain renewal process.
How to save money while renewing a domain name?
You must be aware of the fact that investing in a domain name is not a one-time task. You will have to pay regularly for your domain to keep its ownership with you. That is where domain name renewals come to your rescue.
With regular renewal, you can maintain your ownership over your website domain for decades to come. But these renewals are costlier than the initial domain name costs. It, therefore, becomes more important to find ways to save money while renewing a domain name. Let us discuss some of these money-saving ways in detail here:
Migrate your domain name
Domain business is all about attracting new customers due to which you won't find any domain name registrar offering a great deal on domain renewal. However, when you explore the positive side of this very feature of the domain business, you will find that almost all domain providers welcome you with open arms if you are an existing customer of their competitor. That brings us to the best way to make savings while renewing your domain name – domain transfer.
Find a top-level domain-providing company offering a bargain deal on migrating your domain to it well before your domain renewal date. The whole transfer process might take anywhere between a few hours to a few days depending on the new domain provider and the number of domains you are transferring.
To make the domain migration process completely hassle-free, I'd recommend you looking for a domain provider who handles the whole domain transfer process on your behalf.
Check the renewal fees while domain registration
Whenever you register a domain for your website, always check the renewal prices offered by your domain provider. It is the first step to plan your finances for the long term when creating and maintaining a website.
For instance, you will notice that GoDaddy often offers a free domain with their hosting packages, or low fees for purchasing a domain name, however, after the first year on the initial purchase, the domain renewal fees go much higher than anticipated.
On the other hand, Namecheap doesn't have any spiking domain renewal charges and even offers Domain Privacy Protection for free, unlike its competitors. Booking your domain with such a domain name provider will help you save a lot in the long run.
Renewing for multiple years in advance
Just like registering a domain for a longer tenure results in savings, renewing it for multiple years in one go also helps you save some bucks. Every domain name provider would want you as a customer for a long period since a business needs customers for survival. That is why almost all of them offer huge discounts when you renew a domain for a substantial amount of time.
So, if you are pretty much sure about growing and maintaining your website for years to come, consider booking your domain renewal for multiple years in advance. It will also take away your worries related to yearly domain renewal invoices for a very long time.
Explicitly asking for a discount
When you are satisfied with your domain name provider and do not want to transfer it to a competitor, you can contact the customer support team of your domain provider just before your domain renewal. Even though your domain-providing company might not be publicly disclosing that it is offering a discount on domain renewals, you might get an exclusive one if you talk to the customer support team about a better offer you just saw with some other domain provider.
Explicitly ask for a discount from the sales support pointing out the availability of a better deal with a competitor. Your provider will try to keep you as a customer by offering you a good deal when you mention your intention to migrate for the sole reason to save some bucks. This way you might even end up saving more than what you would have saved by transferring your domain to another domain provider.
Those were the ways to save money on domain purchases and renewals. Using one of the above ways or a combination of a few will help you save big bucks in the long run.
My recommendation based on the highest savings made
While collecting all the above tips and tricks for you, I visited almost all the domain name providers and also read many discussion threads on several forums for getting insiders' viewpoints and experiences. As per my observation, Namecheap offers the best discounts on both registering and renewing a domain. The domain provider even has a dedicated section on its website that offers special coupon codes for great savings each month. It looks like this: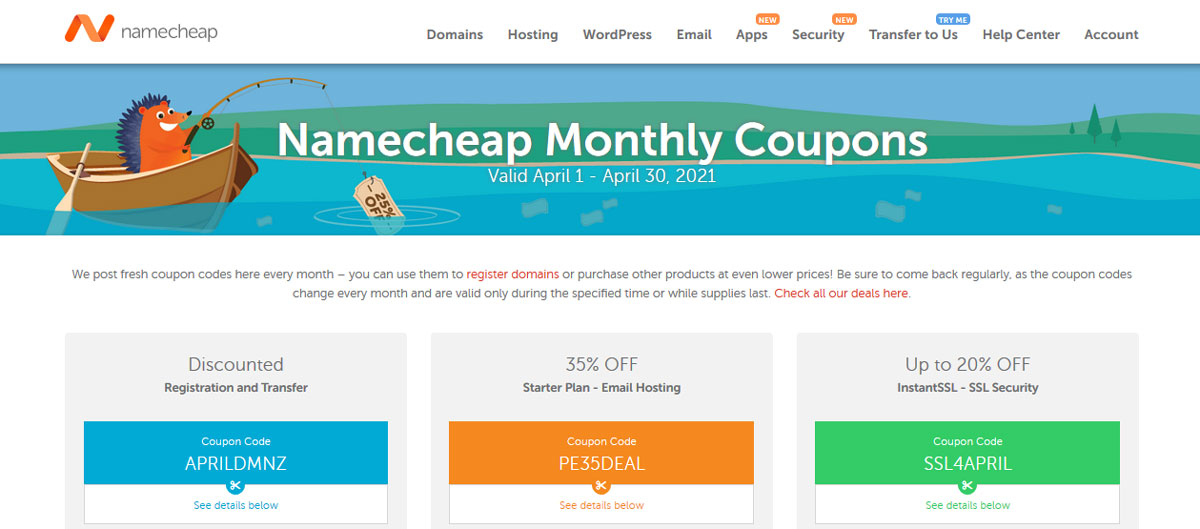 Fresh coupons are added every month to help you save money on domain registration, renewal, and many other services offered by the company. You can buy a domain name from Namecheap and look for the best hosting deal either from Namecheap or another hosting provider depending on your requirements. In my opinion, it will result in the best savings when buying and renewing your domains.
Final Words
Buying and maintaining a domain is an important aspect of your online existence. Depending on your decisions, it can cost you just a few pennies or a big fortune in the long run. Using the above techniques while purchasing and renewing your website domain name will greatly help you in making huge savings throughout the lifespan of your domain.
With the above information, I genuinely hope to bring in some savings for you either in the form of domain registration or domain renewal, or both. Do you know any other ways to save money while buying or renewing a domain? Or, have you tried any of the above ways to save money on your domain? Do let me know in the comment section below.