Rocket is a WordPress hosting provider that focuses on speed, ease of use, and managed 24/7 support, the 3 main things people look for on a WordPress hosting provider. Read our detailed review here.
About Rocket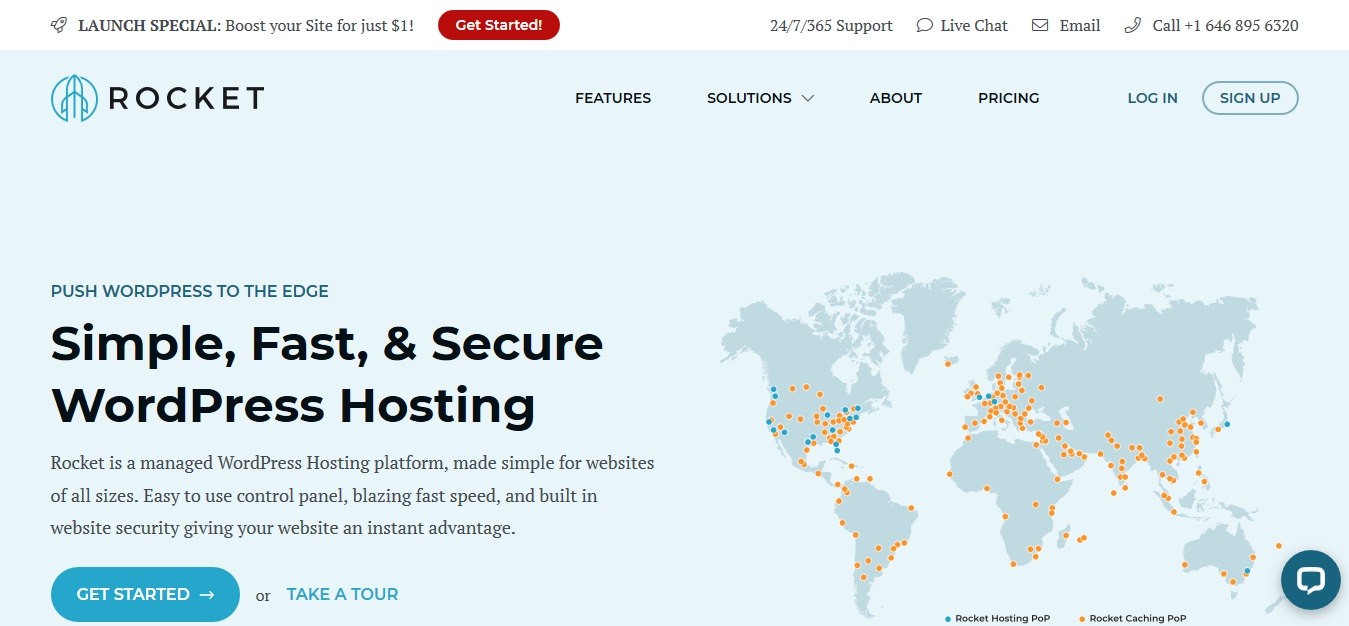 Rocket was launched in 2020 by industry veterans with years of experience. It's apparent that Rocket was launched by people that know WordPress hosting and what its user need. They're perfect for beginners, as their platform is super easy to use and great for developers and enterprises as it's easily scalable.
It's a privately owned company which means the focus is still on the customers and the product itself. Ben Gabler, one of the founders and owners, has 17+ years of experience in the web hosting industry.
That's the gist of what you need to know about Rocket, the company. We'll move onto their features.
Best Rocket Features
There's actually too many to choose from, so we'll focus on 2, and just mention some of the others below.
Taking speed to the next level
Most hosting providers promote their fast servers, but there's much more to speed than just using NVMe disks and a basic caching algorithm. They use an enterprise CDN network with Edge servers by default, and it's included for free with all plans, which is somewhat rare these days. Everything is pre-configured and managed by them, so you have nothing to worry about.
You'll get dedicated resources, so it's not just another shared hosting provider.
Their experts are available to help and troubleshoot your speed issues (if any) which are often time caused by bloated code, plugins, and themes. This is where Rocket differs from other hosting providers – their support team is always available to help and take that extra step to keep their customers satisfied.
You can learn more about their speed algorithm here and their network here.
The ease of use
Everything is intuitive and crystal clear. Even if you're a complete beginner that's using WordPress for the first time, this hosting provider would be a great fit for you. Their easy to use dashboard along with their support team will make the process of starting and running a WordPress website just easy. Deploying a website takes seconds and everything is pre-configured, including speed and security. You can even manage your website via their platform/dashboard. More on that later.
And more
Free migrations. So if you're looking for an alternative, use their free migrations offer and move your sites to Rocket. They'll do all the work.
An advanced firewall and malware scanning and patching. Preconfigured by default and free with all plans. Security is taken care of.
Automatic updates. Core, plugins, and/or themes.
30-day money-back guarantee, no strings attached.
Automatic daily backups are included for free with all plans. You can always start an on-demand backup anytime.
User control. You can add multiple users to your hosting account.
One-click installs and staging. Staging sites are free and included with all plans.
SSH, Git, SFTP, Cron jobs are included for free with all plans.
You can learn more about their features here.
Rocket has one of the best user interfaces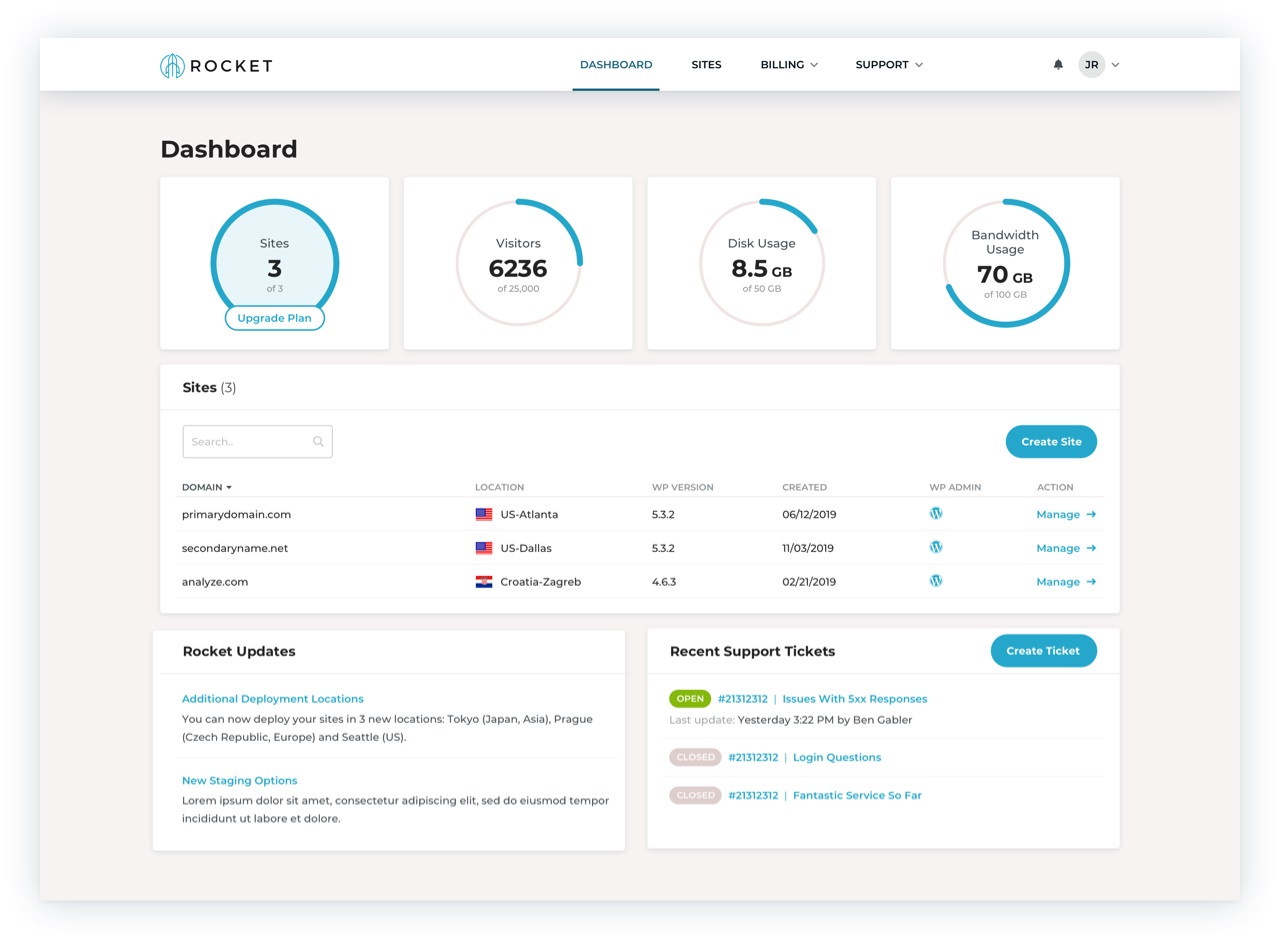 Their dashboard/platform/control panel/user interface, or however you'd call it (they call it Mission Control) is one of the best and easiest we've tried so far, and we've tried many. It's intuitive and perfect for beginners.
Creating a site can be done within a minute. Choose a site name and server location, set up the admin email and password and that's it.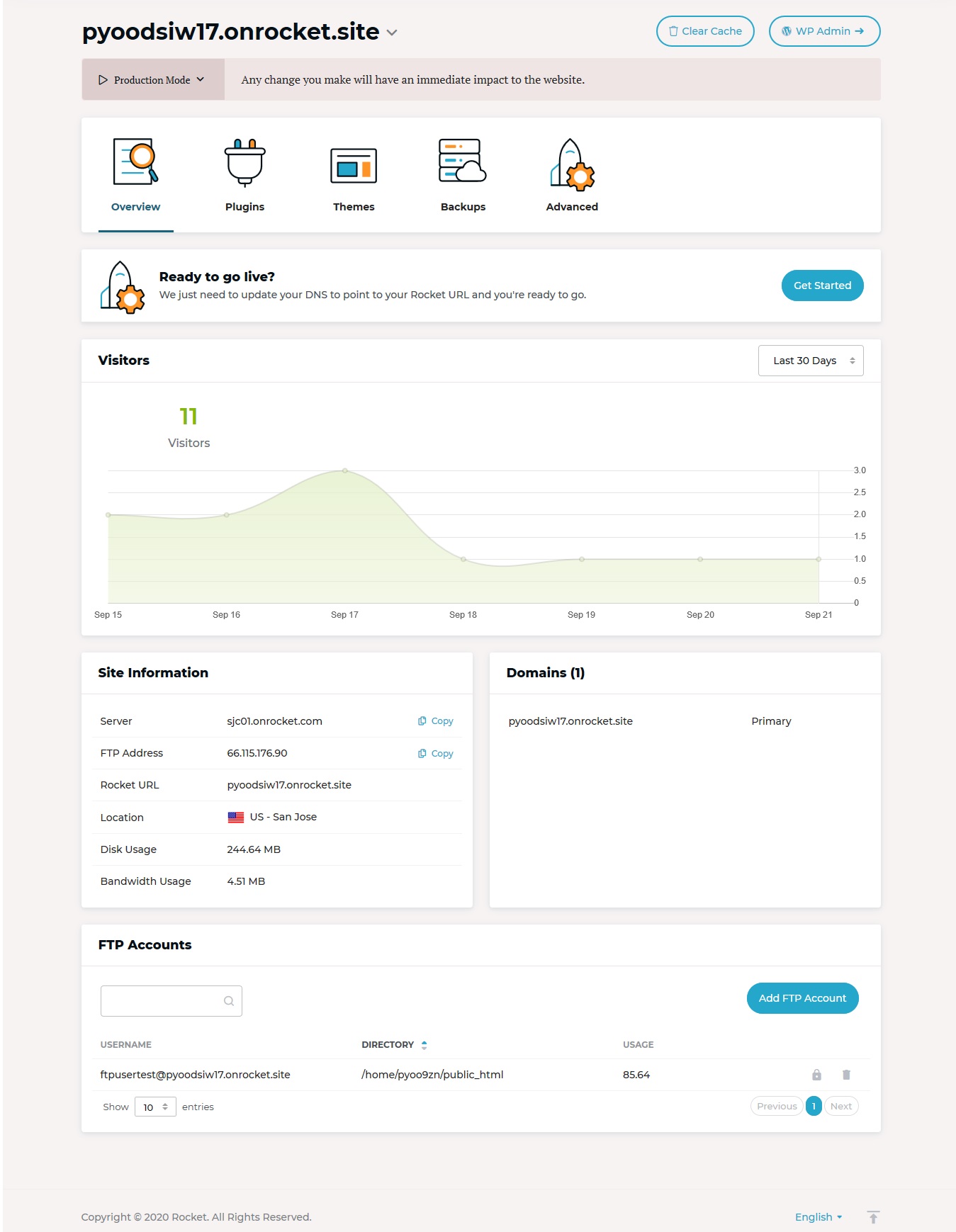 Once the site is created, you can use Mission Control to manage the website. This includes:
Activating, deactivating, deleting, and updating plugins and themes straight from the control panel. This is where their control panel is perfect and easy to use. All of this can be done with a single click and right from the panel, without even accessing wp-admin.
Creating a staging site. Again, with a single click.
Managing backups (daily and on-demand). Restoring from a backup can be done with a single click.
Visitors analytics.
Managing FTP accounts.
Changing PHP versions, creating cron jobs, etc.
Rocket pricing
They're not the cheapest and not even in the mid-range, but you get what you pay for. Considering all the features and the kind of support you get, their pricing is justified and worth it, especially for beginners or just people that want their managed hosting done right.
The cheapest plan is $30 per month and includes 1 WP install, 25K visitors, 10GB storage, 50GB bandwidth, and all other features.
You can get 2 months off if you pay annually. As of writing, there's a launch promo going on which you can use to start your website for $1.
We have an exclusive coupon code for ThisHosting.Rocks visitors – 50% off for the first 3 months.
What we don't like about Rocket
There's plenty of things we like about Rocket, but here' what we don't.
The pretty large list of pre-installed and pre-activated plugins.
When you create a site, a bunch of plugins get installed (and some even activated) by default. As of writing, there's no option to disable these during the install, you'll have to manually go over and deactivate or delete them. It just seems like bloat.

Their reasoning is to make it easier for beginners, but even then, when you're forcing a certain plugin onto a new site when there are (maybe) better alternatives, it's a turn-off. Lots of WordPress users may disagree with this specific list of plugins and rather have the alternatives.
Disabling and/or deleting them takes seconds, but still.
Some plugins are not even necessary and require extra configurations, like OptinMonster, so enabling it by default may deter beginners rather than help them out.
They're working on a feature that enables you to change the pre-installed plugins list, so this can be avoided in the future. Having a list of plugins and themes that you regularly use and install on all websites would be a perfect feature to have. We all have our list of plugins that we install and activate on all new sites, and it takes (a bit) of time, but having it done by default on all new sites would be great.
The pricing is expensive, but again, you get what you pay for and it is justifiable. If you need cheap, you'll have to sacrifice something, be it speed, support, or just features. You don't sacrifice anything with this kind of pricing though.
If they fix the plugin thing it may be the first host we like everything about.
Conclusion
We definitely recommend Rocket for everyone, but especially beginners. Try them out, test their support's response times (which is fast btw), try their Mission Control, and we bet you'll like it.