Pros
Really easy to use and beginner-friendly
Lots of tools and features
Beautiful templates
30-day money-back guarantee
Doesn't require any experience with web hosting
Cons
No free plan
You must use a more expensive plan for an online store
Advertised prices are based on a 4-year billing cycle
Zyro is a website builder you can use to create your own personal website, online store, and more. It's super easy to use and total beginners can use it, without the need of configuring any servers or hosting accounts.
Seeing as how we mainly focus on web hosting and servers, it's a great idea to offer an alternative for beginners and people that want to build a website but don't have to technical know-how to do it. Zyro is a perfect fit. Read our review here.
About Zyro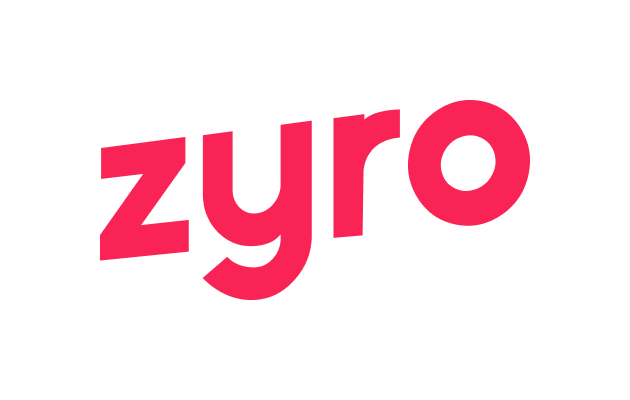 Before we continue with the actual review, it's good to know some information about the people behind Zyro.
They operate from all over the world, but their main headquarters are in Lithuania. What makes the team great is their dedication to the product and their customers. To quote their about page: Two of the most important things at Zyro are our customers and our team. You can learn more about them at their about page.
People are already somewhat familiar with what a website builder is. Essentially, it's a tool that anyone can use to design a website with the help of pre-designed templates and editors. With Zyro, on top of the website builder, you can also publish your website within minutes, all through a graphical user interface. You don't need to configure a server, you don't need to worry about your hosting accounts and control panels. Website builders are what makes website building easy, without needing any prior knowledge or experience. Getting a professionally looking online store has never been easier when using website builders.
Now, to move onto Zyro, the tool itself. Zyro is a Swiss Army knife that features:
All of these features help you build and grow your online business.
The Zyro Templates
One of the most important features of a website builder, and the first step you take when building a website – the templates.
You can choose from hundreds of templates, all beautifully designed, for all types of websites. Be it ecommerce, business, portfolio, resume, events, landing pages, a blog…you can find an awesome template to use.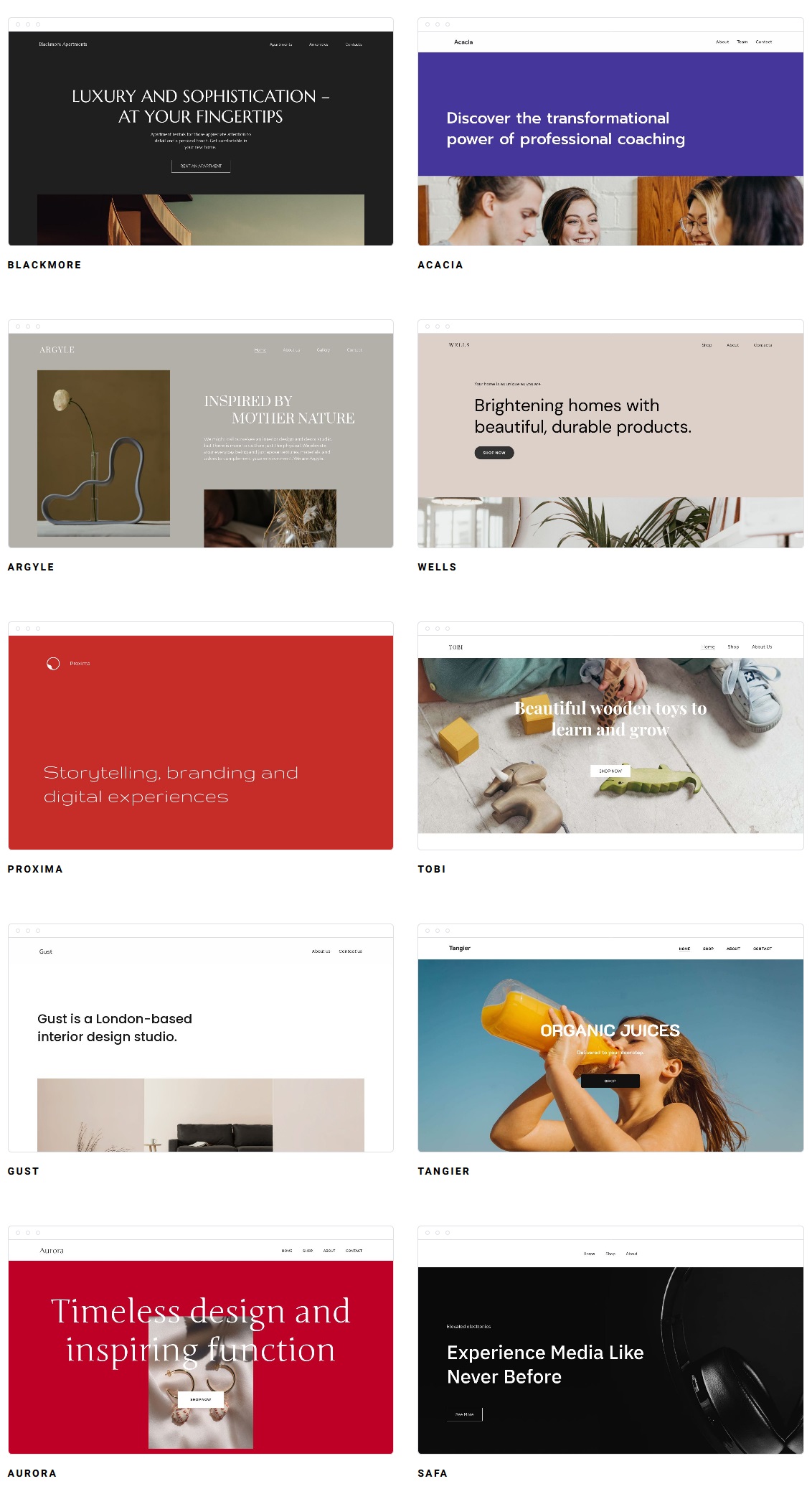 Once you choose a template, you can actually start building your website.
The Zyro Website Builder
The website will already be designed and filled in with content. Editing the content and design itself is super easy – you can do it with a simple click. Everything has its own section and everything is a separate element. Each element is easily editable through a WYSIWYG editor. Changing colors, backgrounds, or fonts can be done with a click.
You can also add or remove elements, again, through a graphical drag and drop editor. It's what makes the whole process super easy and beginner-friendly.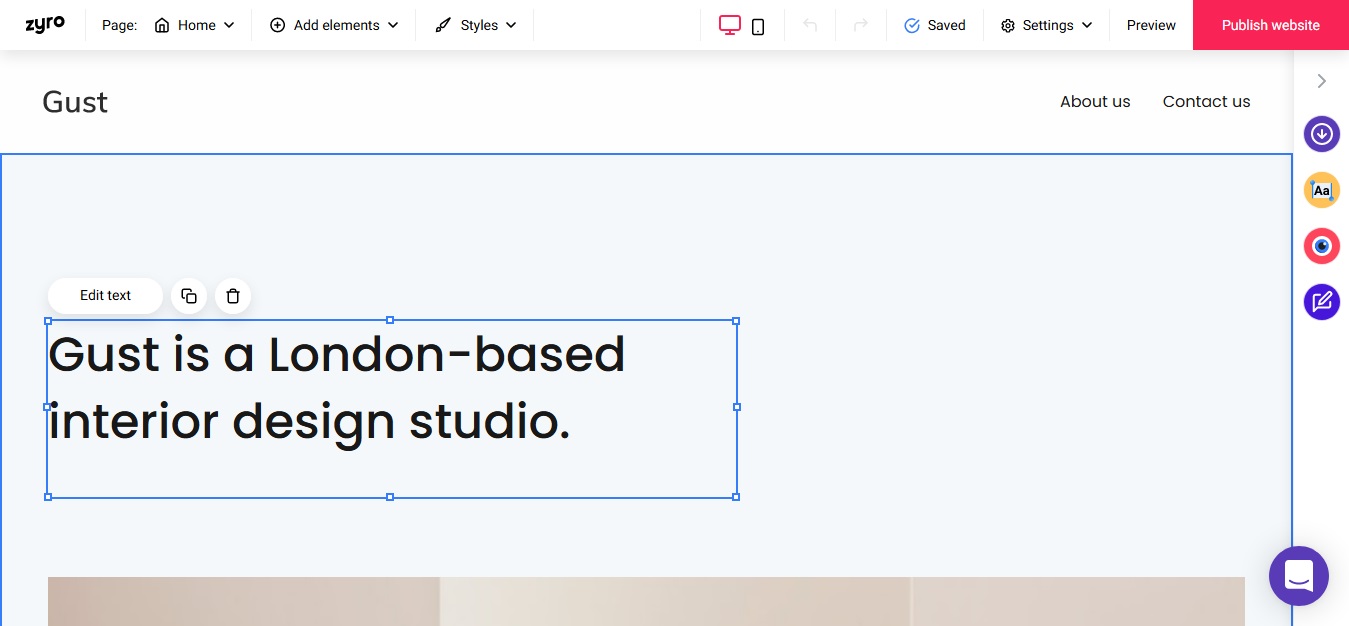 Once you're done building the website, you can move onto the next step – publishing it.
Publishing and Maintaining a Website at Zyro
Publishing the website is done with a single click once you're done building it.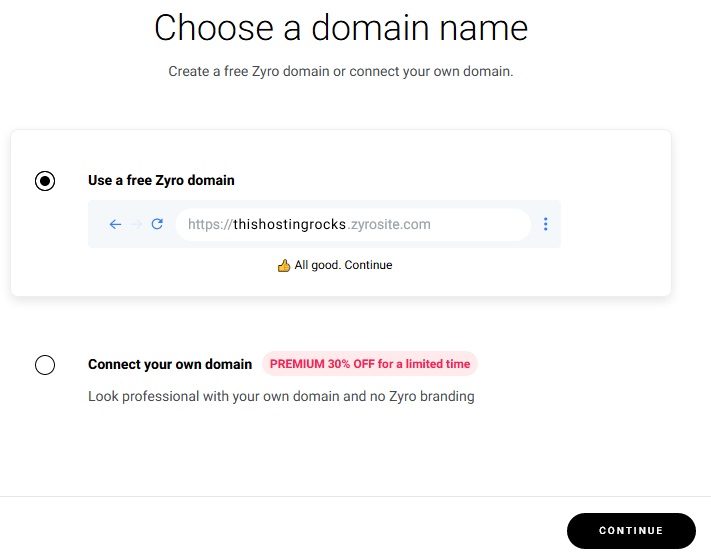 You have an option to use a free domain with Zyro's branding – like yourname.zyrosites.com, which is a good option if you're testing things out or if you're running a simple personal website. However, it's highly recommended to use a professional-looking domain name, especially if you're building an online store. You can use your own and buy it through a third party. Or you can get one from Zyro, which is the easier option, and free with some plans.
Maintaining the website is not needed at all, in terms of worrying about uptime and server monitoring. Everything's taken care of by Zyro – cloud hosting, website speed, and SSLs, all the technical stuff.
If you need to go back and edit or update something on your website, it's easy to do and it's the same process and tools as you'd use when creating the website.
Zyro's Pricing
As far as website builders go, Zyro's pricing is pretty cheap and fair.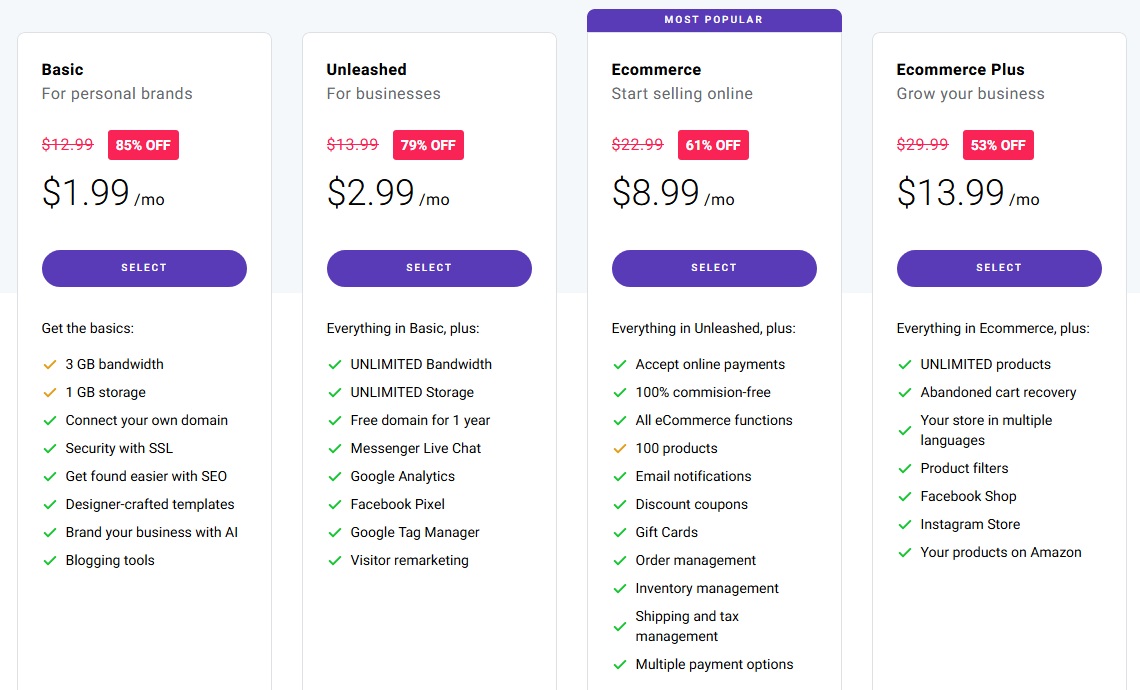 They have 4 plans to choose from, each one with different features. You can choose a plan based on what kind of website you're building and which features you need.
Choosing and paying for a plan can be done after building the website itself. So you essentially have a free trial where you build the website and try the tools, but you cannot publish it without an upgraded plan.
Get a coupon and reduce their pricing.
They offer a 30-day money-back guarantee.
That's basically it. The whole process of starting and publishing a website at Zyro.
Other Zyro Tools and Features
There are a lot more tools and features we didn't cover, but are still worth mentioning, like:
Managing your online store – managing products, orders, inventory, shipping options…basically everything you need, it's all done through Zyro's tools
Zyro's own analytics tool, or you can use Google Analytics
Processing payments without transaction fees
Publishing and selling to Amazon, Facebook, and Instagram
Multilingual support for your websites
You can learn more about Zyro and their tools at their website.
Everything mentioned so far in this review is what we basically like about Zyro.
What We Don't Like About Zyro
The first noticeable thing is that they don't have a free plan. Some website builders do have free plans, although very limited and your website would have ads, they still do have the option. Zyro did offer a free plan, but they've decided to discontinue that plan. The alternative is to build the website itself for free, see if you like the tool, and if you decide to publish and use Zyro, you can upgrade and pay for a plan.
Some features that are basically a must-have, especially for online stores, aren't included in the cheaper plans. So you're basically forced to use the more expensive plans if you plan on building an online store. Although, having that in mind, it's still relatively cheap if you consider how much all of the included tools and features cost separately.
The advertised plan pricing can be misleading – the price $x.xx/mo price that's advertised on their pricing page and everywhere else is based on a 4-year commitment. The real, actual month-to-month pricing is the crossed-off pricing you see above the advertised price. This is basically a common procedure everywhere nowadays. Although misleading, people are used to expect it and should always beware. Even with the longer-term commitments, you can still use their money-back guarantee, so there's no real worry here.

Conclusion On Our Zyro Review
In short, Zyro is a great option for beginners. Easy to use and manage. Try them out and decide if they're worth using. Testing them out is easy as the tool itself is easy to use.