At present, building an SEO-friendly website has already become a necessity. According to the SEO professionals, if your website doesn't show up on the search engine results on the first page, it can even not exist, as no one can actually look for it.
However, if the SEO optimizations are done correctly, you can drive tons of new traffic and fresh leads to your website, and reach a larger audience as well. And that's only one of the main benefits you can actually get along with boosting the SEO rate of your online platform.
Today, we will look deeper into the ways you can enhance the website's SEO-friendliness and the benefits of this process's regular implementation.
Why Is It Critical to Make Your Website SEO-friendly?
In fact, there are plenty of reasons website owners start doing SEO processes for their websites. So, here are the main goals you can reach with SEO:
Increase the website traffic. You can get more visits to your website without promoting it.
Make your page visible for the search engines. Potential visitors can now find your website much easier in their search results.
Enhance the website value and boost user experience. This means your website usability will be much better so that consumers can easily find different information there.
Save costs on ads and marketing strategy. Needless to say, this method is the most cost-effective!
Detect & analyze the website's strong and weak points. By conducting a detailed analysis of the website's performance, it is easier to build a strong platform development strategy.
As you can see, these reasons are the main triggers on why the website owners consider making their websites more SEO-friendly. But what are the main signs you actually have a bad SEO strategy?
Main Signs That Show Your Website Doing Bad at SEO
Here are the most frequent signs your website is not SEO-friendly.
Duplicate Content
"According to Statista, the most critical SEO mistake is that the website posting duplicate content. For instance, if you have blogged various assignment services, and post identical content about the same services on every new page, the content won't provide any value for the potential clients"- says Kella Park, a digital marketing manager at EssayWriter.
As a result, you will get a low client retention rate, and which is more, if the search engine detects you are making spammy content – it won't show your website to the users at all or put it at least on the 2nd or 3rd page of the search engine page results (SERP). If so, then your page can even not exist at all!
Broken Links
The issues of broken internal and external links are usually detected in every 3rd website. And, in fact, the main reasons why these broken links appear are renaming or moving the website pages and not updating the links from other webpages. Also, errors might appear while linking to multimedia content that has been moved or deleted, or else while linking to the external websites which can change their URL or move the address.
Therefore, with having lots of broken links with the content unavailable, users can think your website is broken and leave it. Furthermore, if the search engine detects the website issues, it is less likely to show up on your platform at the SERP.
Low Website Loading Speed
Also, your website can lose potential visitors if your site speed is too slow. According to Loadstorm, you have only 5 seconds to engage a customer before they leave your website! Just a one-second delay in page load time means a 7% loss in conversions, 11% – in fever page views, and over 16% decrease in customer satisfaction! Besides, 1 in 4 people will close the browser tab if the website loads longer than in 4 seconds.
Recommended reading: How Web Hosting Affects SEO
For sure, every person today faces this issue every day while browsing the Internet. And, to prevent this, you should make a detailed analysis of your website performance to find out the main causes of the website's slow loading. For instance, that might be the size of media files, certain extensions, or the hosting service issues.
Neglect Using Keywords
One of the basic processes of making your website SEO-friendly is to conduct keyword research related to a website's specific topics. But, if you ignore this critical process, you will fail the SEO campaign, as you can't target the audience and get the search engine's trust.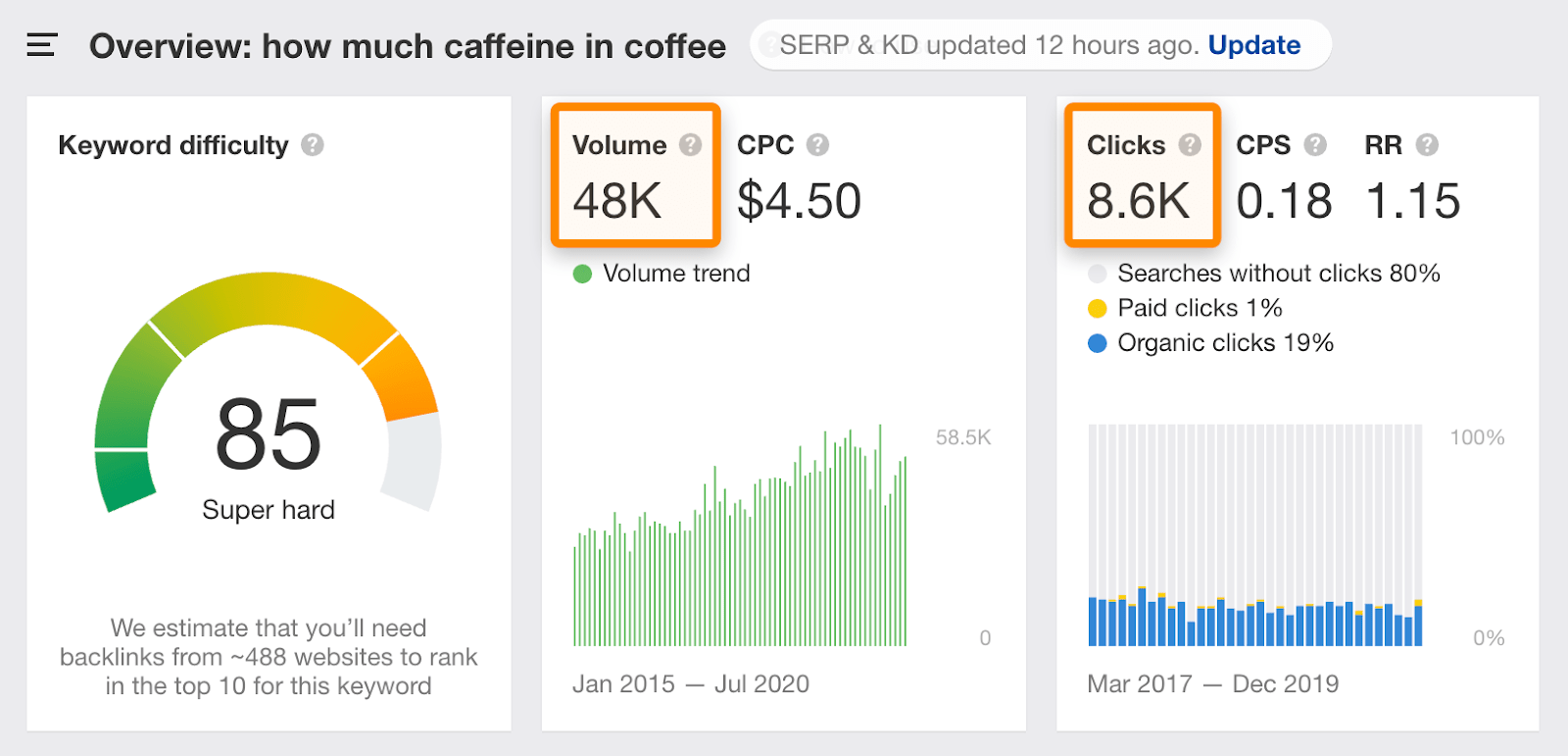 Taken from: https://ahrefs.com
The main idea of using keywords is that you can show the search engine the content your website can offer to the users. If it can provide a certain value to the consumers, regularly post the professional content, then it is more likely to show up on the 1st page of SERP.
Furthermore, by targeting what people search for, you can increase the website visibility, as well as the visitors' retention.
Ignore Social Media
The authoritative social media integration means a lot for the search engines and the customers, thus showing your website actually can be trusted. Also, the inclusion of social media channels means you will get more traffic and more potential customers as well, so make sure to implement the official accounts of Facebook, Twitter, Instagram, Pinterest, and other popular networks to generate more leads.
Additionally, it will be much easier to present your business as more personal, and developed in your industry. And, this can also help you constantly interact with your audience and keep them involved in any campaign of your website.
Forget About the URL's Optimization
Now more and more people become afraid of being cheated by scammers, that is why they usually ignore the links they can't understand. In addition, this disadvantage is usually noticed by a search engine, and, since its main goal is to show the results which user is more likely to click on, it won't show your website on the top of SERP. So, confusing links can also lead to poor website traffic.
Let's compare the random URLs to see the difference: http://www.catsanddogs.com/products/item3?=1338 and http://www.catsanddogs.com/shop/colars. According to these links, you can clearly see what page is hidden under this website, which is good for both the search engines and potential visitors.
Thus, by avoiding and correcting these simple mistakes while doing your SEO processes, you will definitely succeed in making an SEO-friendly website. So, what are you waiting for? Start implementing the changes right now!