Pros
Lots of crypto payment options
Use Vultr, DigitalOcean, or Linode and pay with crypto
Cheap pricing
Easy to deploy and manage servers
Hourly billing
Cons
No shared hosting
Top-up your balance or you lose everything
BitLaunch is a cloud server hosting provider that offers servers from themselves, Vultr, DigitalOcean, and Linode. Essentially, with BitLaunch, you can use cryptocurrencies to pay for servers by Vultr and other popular cloud server providers. Read our detailed review below.
About BitLaunch
BitLaunch was launched in late 2017.  Being a VPS provider that accepts cryptocurrencies is enough of a selling point to make you want to try them out. Offering servers from Vultr, DO, and Linode is a huge advantage to most other crypto VPS providers. The advantages of using cryptocurrencies to pay for VPS hosting is already familiar to most of us, the main one being anonymity, which is hard to come by these days. There are many reasons why you'd want to try them out, and we'll go over most of them in our review. You can also get a free trial if you want to test their servers yourself.
What do BitLaunch offer
We'll quickly go over their services so you get the idea of what they have to offer:
Bitcoin VPS – Both Windows and Linux VPS hosting that you can use Bitcoin (and other cryptos) to buy. This is their main focus and the service most people go for. We'll go into detail for their VPS hosting below.
ShadowsocksR VPS – deploy a ShadowsocksR server in seconds. Use their 1-click install option to quickly deploy a new server.
Windows RDP VPS – powered by Windows 10
What cryptocurrencies does BitLaunch accept?
They're more than just a Bitcoin VPS provider. These are the cryptocurrencies you can use to pay for their VPS hosting:
Bitcoin
Ethereum
Bitcoin cash
Litecoin
Monero
XRP
Dash
Ripple
Ethereum Classic
and more.
So you have lots of options to choose from when it comes to payments.
Best features of BitLaunch
The obvious best feature is that they accept cryptocurrencies and you can use Vultr, DigitalOcean, and Linode's servers, but there are many more features that are worth mentioning, like:
Hourly billing – an essential and very useful feature, especially when it comes to anonymous VPS hosting
Low pricing – compared to other similar hosting providers, their pricing is pretty low
DDoS protection – 500gbit+/sec DDoS-protected reverse proxy server and firewall in front of your server
Developer tools – API, and blcli – a command-line tool you can use to interact with your servers
1-click installs – deploy a server with a single click with OpenVPN, WireGuardVPN, WordPress, Shadowsocks, or LEMP pre-installed. If you use Vultr or DigitalOcean, there are more options to choose from, like cPanel, Docker, Minecraft, etc.
Enterprise-grade hardware – so you get the speed and efficiency you need
Free trial – it's always best to research, read reviews, and actually test their servers out before committing to anything
Ease of use – you can deploy servers in seconds with their easy to use dashboard
A detailed review of their VPS hosting
For this review and testing, we'll use a server by BitLaunch, we've already reviewed and tested the servers by Vultr, DigitalOcean, and Linode. They'll be the same wherever you buy them from, though with BitLaunch you'll get the advantage of using cryptos to buy the actual server.
Creating an account is super easy – just enter your email and password and you're done.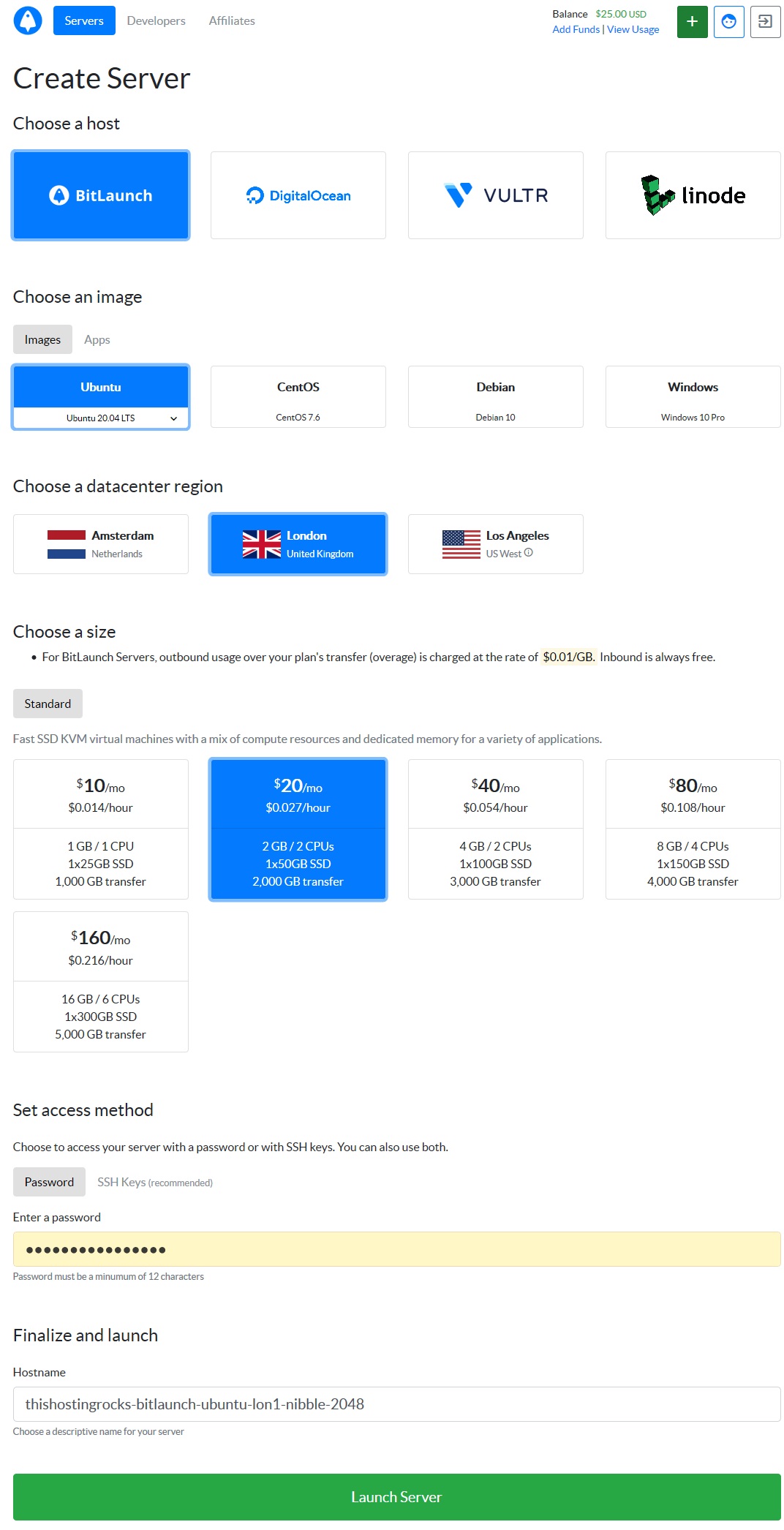 Deploying a server is done within a minute. Just select a host (BitLaunch, DigitalOcean, Vultr, or Linode), choose a server image, choose a location, choose a size (plan), set a password or an SSH key and you're done. Couldn't be easier.
Vultr's, DigitalOcean's, and Linode's servers have already been benchmarked and we all know they're good. We tested one of their own servers (more specifically, the 2GB RAM, 2 CPU one). We ran nench to get an idea of their server's performance. Here are the results:
-------------------------------------------------
 nench.sh v2019.07.20 -- https://git.io/nench.sh
 benchmark timestamp:    2020-07-24 15:11:29 UTC
-------------------------------------------------

Processor:    Intel(R) Xeon(R) CPU E5-2660 0 @ 2.20GHz
CPU cores:    2
Frequency:    2199.998 MHz
RAM:          1.8G
Swap:         -
Kernel:       Linux 3.10.0-1062.18.1.el7.x86_64 x86_64

Disks:
sda     50G  SSD

CPU: SHA256-hashing 500 MB
    3.877 seconds
CPU: bzip2-compressing 500 MB
    CPU: AES-encrypting 500 MB
    2.485 seconds

ioping: seek rate
    min/avg/max/mdev = 122.2 us / 227.0 us / 9.62 ms / 139.2 us
ioping: sequential read speed
    generated 8.44 k requests in 5.00 s, 2.06 GiB, 1.69 k iops, 422.2 MiB/s

dd: sequential write speed
    1st run:    258.45 MiB/s
    2nd run:    618.93 MiB/s
    3rd run:    626.56 MiB/s
    average:    501.31 MiB/s

IPv4 speedtests
    your IPv4:    xx.xx.xxx.xxxx

    Cachefly CDN:         104.62 MiB/s
    Leaseweb (NL):        82.61 MiB/s
    Softlayer DAL (US):   0.45 MiB/s
    Online.net (FR):      92.86 MiB/s
    OVH BHS (CA):         14.17 MiB/s
The downsides to BitLaunch
We focused on the upsides and what's great about BItLaunch so far, but here are some of the negative stuff we noticed.
No shared hosting options – sometimes you just need to host a simple website without worrying about managing a server and paying too much. Shared hosting that you can pay for with crypto would be great.
You have to make sure you top-up your balance regularly. Once your balance reaches $0, your servers will be destroyed along with any backups associated with those servers. You will get an alert once you're running low though, so it's unlikely you'll forget to top it up.
Not really a downside, but more of a suggestion. More options to choose from would be great. There are lots of other great cloud server providers that don't accept crypto payments themselves, so it would be great if you can use BitLaunch for them.
Conclusion
All in all, for what they are and what they offer, BitLaunch is one of the best out there. You should definitely try them out if you're in the lookout for a VPS provider that accepts crypto payments. There's also a free trial available so you don't have to commit to anything before trying them out.