Host-World is a web hosting provider that offers VPS and Dedicated server hosting with server locations from 17 different countries all around the world. Read our review here.
About Host-World
They are based in Estonia, but they offer servers from all around the world. The most interesting thing about Host-World is its global availability. Not only that they offer 25 different server locations, but they offer multilingual support too. They're a perfect option, wherever you are from.
Host-World's Current Server Locations and Support Languages
To expand on Host-World's global availability below is a detailed list of what server locations and support languages they offer.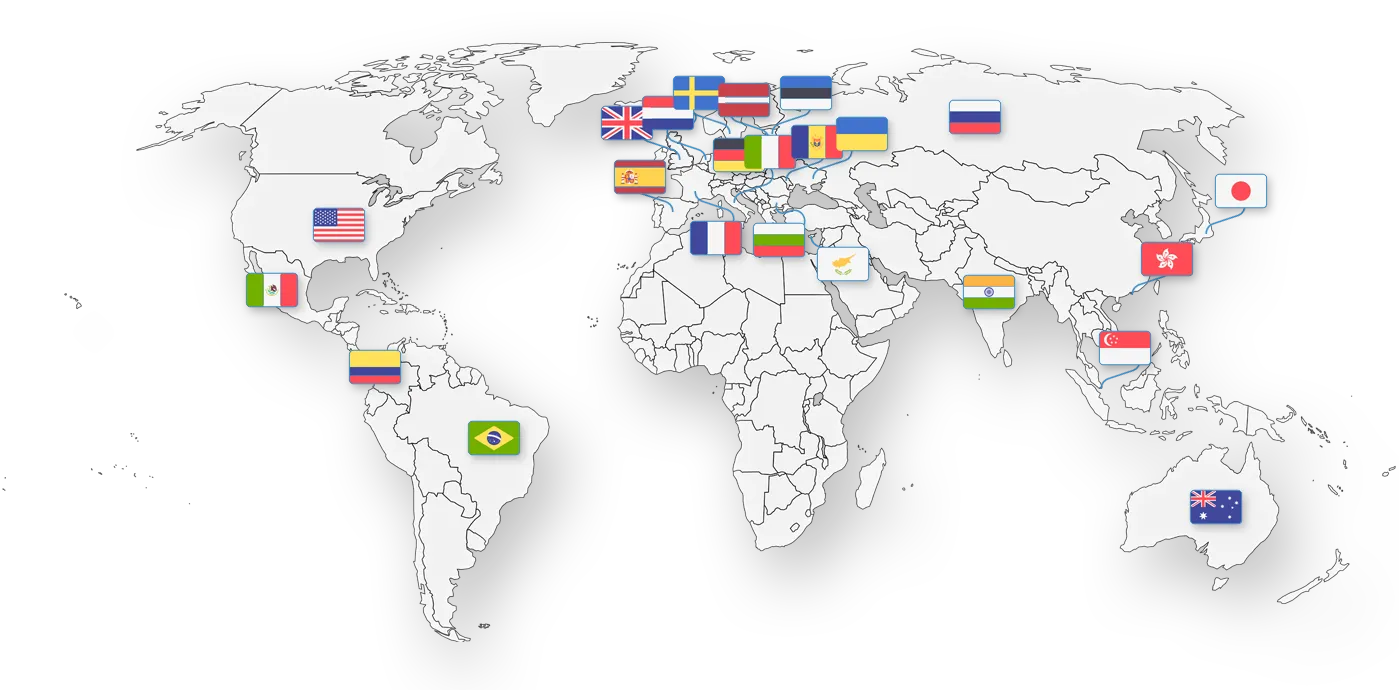 Here's a list of Host-World's current server locations:
Frankfurt, Germany
Amsterdam, Netherlands
London, United Kingdom
Strasbourg, France
Gravelines, France
Limassol, Cyprus
Moscow, Russia
Riga, Latvia
Warsaw, Poland
Chisinau, Moldova
Kiev, Ukraine
Tallinn, Estonia
Sydney, Australia
Tokyo, Japan
New Delhi, India
Singapore
Hong Kong
Bogota, Colombia
São Paulo, Brazil
Los Angeles, United States
Miami, United States
New Jersey, United States
Beauharnois, Canada
Toronto, Canada
Guadalajara, Mexico
This list will grow in the future and they will offer more locations. Offering 17 locations in the first place is a big deal anyway, far more than other hosting providers.
As for support, you can get support in English, Russian, and Spanish. This is great for customers that have trouble reading or writing in English. With Russian and Spanish, a lot of the potential customers will be covered.
Host-World's VPS and Dedicated Hosting
They have lots of different plans to choose from. All VPSes are powered by KVM so you'll get guaranteed resources. Pricing starts at €6 per month for a 2GB RAM VPS with 30GB disk space. It's affordable and comparable to all other cloud hosting providers.
We'll review one of their Hong Kong VPSes with 4GM of RAM, 2 CPU cores, and 50GB disk space.
Here are the results of a nench.sh benchmark:
-------------------------------------------------
nench.sh v2019.07.20 -- https://git.io/nench.sh
benchmark timestamp: 2021-02-26 11:21:35 UTC
-------------------------------------------------

Processor: Intel(R) Xeon(R) CPU E5-2690 v2 @ 3.00GHz
CPU cores: 2
Frequency: 2992.786 MHz
RAM: 3.7G
Swap: -
Kernel: Linux 3.10.0-1160.15.2.el7.x86_64 x86_64

Disks:
vda 48.8G HDD

CPU: SHA256-hashing 500 MB
3.115 seconds
CPU: bzip2-compressing 500 MB
CPU: AES-encrypting 500 MB
2.268 seconds

ioping: seek rate
min/avg/max/mdev = 49.0 us / 102.2 us / 9.66 ms / 156.9 us
ioping: sequential read speed
generated 22.0 k requests in 5.00 s, 5.38 GiB, 4.41 k iops, 1.08 GiB/s

dd: sequential write speed
1st run: 843.05 MiB/s
2nd run: 326.16 MiB/s
3rd run: 798.23 MiB/s
average: 655.81 MiB/s

IPv4 speedtests
your IPv4: 194.156.99.xxxx

Cachefly CDN: 7.66 MiB/s
Leaseweb (NL): 4.85 MiB/s
Softlayer DAL (US): 3.32 MiB/s
Online.net (FR): 3.76 MiB/s
OVH BHS (CA): 0.94 MiB/s
Great results, at a great price. You'll get a well-performing VPS with multilingual support and 4GB of RAM for 12 euros per month.
Their dedicated servers are powered by Intel Xeon processors, ECC DDR4 RAM. You have different uplink options (up to 1 Gbit), and different RAID options to choose from.
Host-World's Support
Another great feature of Host-World is its 24/7 support. They really are available 24/7 and respond within seconds on live chat. Tickets are always responded to within minutes.
The support itself is self-managed, so it's not a fully managed VPS, but they will try to help with any issues you have.
At an affordable price, this really is a no-brainer if you're looking for servers powered by fast hardware with actual 24/7 responsive support.
Downsides of Host-World
There aren't many, but considering how they are fairly new, it would be great if they could start offering shared hosting services to expand their potential user base. Their servers are not fully managed so shared hosting or a fully managed VPS option with a control panel would come in handy.
Some servers are powered by HDD, not SSD, but that reflects the price and it's clearly stated.
They are already cheap, but it would be better if they offered a small discount for longer billing cycles, as some other hosting providers do.
Conclusion on our Host-World Review
All in all, it's an affordable option with lots of choices and server locations to choose from. You can't go wrong either way. You can contact them by live chat anytime and they will respond to whatever question you have before buying.