We are living in a tech-dominated world. Whether you sell t-shirts or are a CEO of a bank, you need to embrace technology with open arms.
As a business in today's world, it is very likely that your online presence involves WordPress. If that's the case, you might want to opt for managed hosting.
This article will help you deploy WordPress on Cloudways – a managed hosting service.
A Bit About WordPress
Launched by Matt Mullenweg and Mike Little in 2003, WordPress has acquired massive popularity since its release. Initially started out as a blogging platform, WordPress now powers more than 30% of the entire websites. Some of the powerful websites that run on WordPress include TED, New York Post, USA Today, CNN, Spotify and TechCrunch among others.
WordPress is an open-source platform that aims to democratize publishing. The platform is built on PHP and MySQL. Since it is an open-source platform, passionate developers and designers are constantly improving the platform in remarkable ways.
With the latest plugins and features, there are endless possibilities with WordPress. The Content Management System (CMS) will continue to thrive big time in the years to come.
Managed Cloud Hosting for WordPress Websites
When it comes to hosting websites, managed cloud hosting is a very safe choice. From ensuring speed to maximizing security, it has a variety of advantages over other hosting options.
You might want to opt for managed cloud hosting for your WordPress websites if:
You are a business owner or a blogger who wants to run a website without worrying about updates, backups, and other technicalities.
You want to increase traffic to your website.
You are running a business that cannot afford to have excessive downtime, for example, an ecommerce store.
You need 24/7 support from experts.
Why You Should Opt for Cloudways to Host a WordPress Website
With data centers across more than 25 countries around the world, Cloudways has established itself as one of the leading managed cloud hosting platforms. We included them and reviewed them in our WordPress hosting comparison.
Employing the latest in cloud technology and a customer-centered model, Cloudways is helping solve major hosting problems of individuals and businesses across the world. It takes away all the hassles and gives peace of mind to their users.
Cloudways' WordPress Managed Hosting is specifically customized for WordPress websites. From deploying ThunderStack technology for faster speed to implementing platform-level firewalls for enhanced security, Cloudways managed WordPress hosting has got you covered.
Here are some of the WordPress applications that are part of Cloudways' offering:
Latest Version
This version comes with Varnish configuration and 'Breeze' – a WordPress cache plugin developed by Cloudways. Both software technologies enhance the performance of WordPress websites.
Latest Version with WooCommerce
This has the latest version of WooCommerce installed. It is highly recommended if you plan to set up an online store.
Latest Multisite Version
As the name suggests, this version will support multiple WordPress websites. It will allow you to manage two or more websites through a single, intuitive dashboard.
Clean (No Cloudways Optimization) Version
This version is similar to what you will get if you download WP from wordpress.org and install it yourself. It does not have any additional features.
Deploying WordPress on Cloudways – An Easy Process
Installing WordPress on Cloudways is simple and easy. All you have to do is choose the features and you will be good to go within minutes. Let's break down the process and take you through step by step:
1. Sign up for Cloudways
Go to Cloudways, enter your Email, Password, Describe Yourself, Select Spending, and then click on Start Free button to complete the signup process.
You can use our exclusive Cloudways coupon to get $15 free credits:
Coupon code: THISHOSTROCKS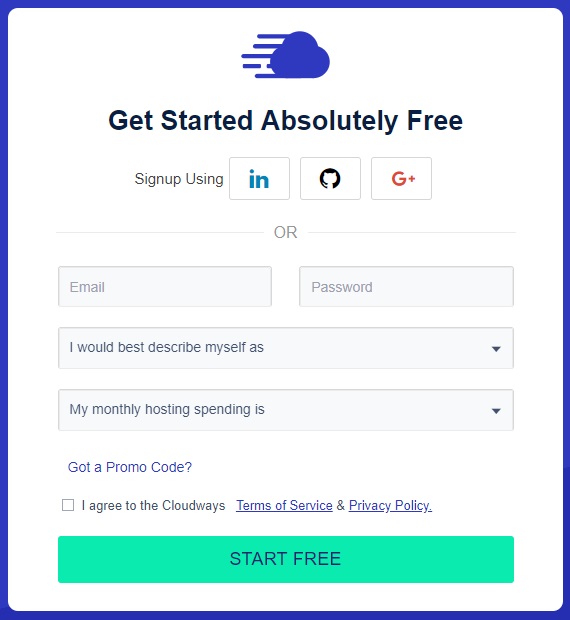 Now go to your email account and verify your email address. If you have already signed up, then simply log in to the Cloudways Platform.
2. Enter Application and Server Details
From the drop-down menu, select any of the WordPress versions you want (we have already outlined the details of each of the versions). Name your Managed App, Managed Server and then Select Project.
3. Choose Cloud Provider
With Cloudways, you have got five top-notch cloud infrastructures. They are DigitalOcean, Linode, Vultr, Amazon Web Services, and Google Compute Engine. Each cloud infrastructure has different prices and offerings. Some of them are featured in our cloud hosting comparison.
Choose the one you are most comfortable with!
4. Select Server Size
Based on your hosting needs, select server size, bandwidth, and storage. These might vary depending on the cloud platform you have chosen. While choosing them, consider factors like expected website traffic, application usage, etc.
5. Select Server Location
Cloudways has data centers located in more than 25 different locations around the world. You would want to choose the location that is nearest to your audience. Again, a number of locations will vary depending on the cloud platform you have opted for.
6. Launch Server
Finally, click on the launch now button and wait for a few minutes. Your WordPress website will be live!
This will be a 3-day free trial after which you can decide if you want to continue. If you used our coupon you'll get $15 free credits that you can use towards this server.
Accessing Your WordPress Website
Now that you have launched the server, it's time to configure the application. On the top left corner of your screen, click the Applications tab.


Select your WordPress application and configure its details. Let's take you through each tab:
Cloudways' Application Dashboard Walkthrough
Now that your WordPress website has gone live, let's give a brief description of each of the items in the dashboard. This will make your life a whole lot easier and will enhance the user experience. Let's dive in:
Access Details
This will be the default tab. It contains your access details such as username, password, and other credentials. You can also find the URL link to launch your WordPress website.
Domain Management
After you have launched your WordPress application and server, you want to direct your bought domain name to the hosting service. You can use Namecheap to buy a domain. With Cloudways, it's simple! All you have to do is enter the name of your website in the Primary Domain field and click Save Changes. Your domain name will be directed to Cloudways!
You can also include additional domains if you have opted for multisite functionality.
Cron Job Management
The Cron Job management tab is there to help you schedule tasks according to your priorities. Click Add New Cron Job button and set the required list of parameters.
SSL Certificate
SSL certificates not only ensure that your website has met certain security standards, it also inspires trust among your website's visitors.
If your domain has already been directed to Cloudways, then all you have to do is provide your email and domain name and your SSL certificate will be installed immediately.
Restore
As the name suggests, this tool just helps restore your WordPress website in case of any technical disruptions or mishaps.   
Your website will be restored from the latest Cloudways backup. This gives you peace of mind.
Deployment via Git
Using this tab, you can deploy your existing application to the Git repository through an SSH key. By pushing your code there, your developers can work with freedom.
Application Settings
Inside the application settings tab, there are three subtabs. Let's describe each one:
General Settings: This subtab allows you to access permissions and manage webroot directory.
PHP Settings: This subtab allows you to manage PHP-FPM settings.
Varnish: It helps you define caching rules for your WordPress website.
Migration Tools
This tab contains the WordPress migration plugin. You can download this to move all your application files and databases to the new cloud server safely.
CloudwaysCDN
CloudwaysCDN is developed by the Cloudways team to enhance website's performance for a wider audience.
You can easily have your own version by clicking the 'Create' button. Access to CDN is not available in the trial period.
Conclusion
Cloudways is an incredible platform for your WordPress website. With a few simple steps, you get an up and running website within no time. Its highly innovative features ensure enhanced performance and superior results every time.
Whether you are an ecommerce store or a digital marketing agency, Cloudways managed WordPress hosting will leave you with no regrets.
Its pay-as-you-go pricing model allows you to pay only for the services you are using. Furthermore, their customer success team is truly exemplary. Not only do they have on-board a community of WordPress developers who are always willing to help, they also have a 24/7 responsive support staff. So what are you waiting for? Start your Free Trial with Cloudways today! And use coupon code "THISHOSTINGROCKS" to get $15 free credits.