WebHostingPad started in 2005 with a team of web hosting veterans and experts. With a proven, more than a decade-long record, WebHostingPad is a safe choice for your web hosting needs. Read our detailed review here.
About WebHostingPad

First, let's start with the basics. With more than 15 years of being in business, WebHostingPad has withstood the test of time. The longevity alone is enough of a reason to choose them, but there is a myriad of other reasons which we will write about more below. The company is US-based with a top-notch support team. You can learn more about them on their about page.
WebHostingPad's Portfolio
Here's a quick overview of the services WebHostingPad offers:
Shared web hosting starting at $3.99 a month (1-year billing cycle). These plans include a free domain name, free website builder, free SSL, 1-click installers, and more. There's also a "mini" variant which is cheaper and perfect for smaller websites.
WordPress hosting starting at $4.99 a month (1-year billing cycle). These plans include everything the shared web hosting plans do, plus an optimized server, free WordPress website transfer, free themes, and more.
VPS Hosting starting at $29.95 a month (monthly billing cycle). The VPS plans are offered by their sister company, VPS Depot. The $29.95 VPS includes 80GB disk space, 2GB RAM, and 1 CPU core.
You can also register domains at WebHostingPad or get a premium website builder.
If you opt-in for a longer billing cycle, you'll get a discounted price.
Best WebHostingPad Features
Here are some of the most notable features they offer with their hosting plans and services:
Free domain name. You can get a free domain name for a year with their hosting plans. A maximum value of $14.99. If the domain costs more than that, then the amount will be deducted from the domain's pricing.
Free website builder. You'll get their Weebly website builder with all their plans for free. There are also other non-free (better) versions of Weebly available.
30-day money-back guarantee. If you're not satisfied with their services within the first 30 days, you can get a refund.
1-click installers for the most popular apps, including WordPress.
Automatic backups. One less thing to worry about – with automatic backups everything will be taken care of without having to think about when's the last time you created a backup.
and more. Features like a free SSL and 24/7 support are included but they're pretty standard for all hosting providers.
Reviewing WebHostingPad's All-Inclusive Power Plan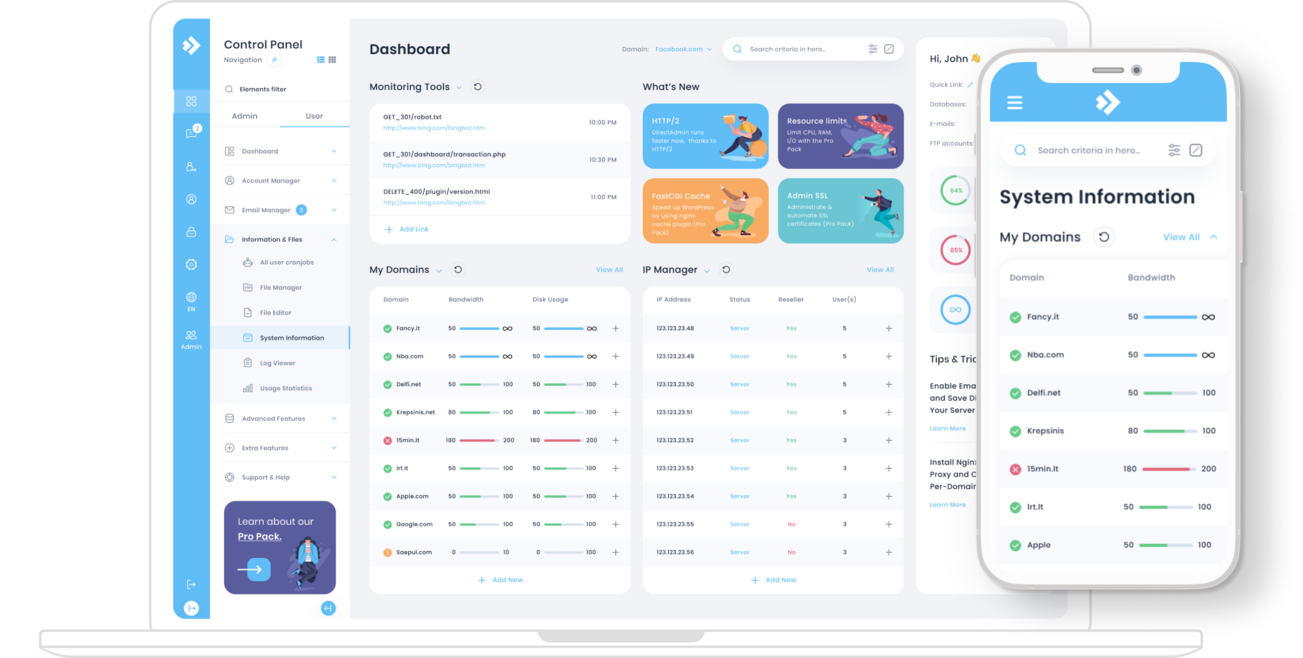 Their shared web hosting plans are powered by DirectAdmin. It's a popular and easy-to-use control panel.
You can manage your account, domains, websites, databases, emails, SSLs, and everything else you'd need. The control panel itself features a File Manager which makes it easier to transfer and work with files straight from the control panel.
The most notable feature of their hosting plan is the 1-click installer. You can install hundreds of apps with a single click. For some apps, the 1-click installer gives you options like automatic theme and plugin updates for WordPress. This is really useful and can save you a lot of time.
The affordable pricing, the beginner-friendly control panel along with the 1-click installer, backed by their 24/7 support are what make WebHostingPad a great choice for anyone, especially beginners.
WebHostingPad Downsides
Here's what we don't like about WebHostingPad:
There's no month-to-month billing cycle. All their shared and WordPress hosting plans have a pricing structure with a yearly contract at a minimum. They still do offer a money-back guarantee, but it would be nice to have the option of a shorter billing cycle, even if it makes it more expensive.
The VPS Hosting pricing is a bit expensive, at least compared to other unmanaged and managed hosting options. However, by the looks of it, WebHostingPad themselves aren't really focused on VPS hosting, it looks like they're more focused on their other hosting plans.
Some extras like them restoring a backup is a paid addon. You may not even need this, but some hosts offer these kinds of addons for free. After all, you get what you pay for, and the features they do offer for free with this kind of pricing is great.
Conclusion on WebHostingPad
They're definitely worth a try considering the pricing and features they offer. They really are a great fit for beginners as everything they offer makes it easy for anyone to get accustomed to. You can use our exclusive coupon to get 20% off your hosting order at WebHostingPad.