Pros
Great customer support
Feature-rich platform
Easy to use dashboard
Caching, SSL, CDN are free and pre-configured
Fast cloud servers with dedicated resources
Cons
Expensive if you only need hosting
No way to share access to other users (yet)
No built-in graphical file manager
WPMU DEV is a popular WordPress platform where you can manage your WordPress sites, get support and get plugins. You can also host your sites on the recently introduced WPMU DEV Hosting platform. Read our review of WPMU DEV's hosting here.
About WPMU DEV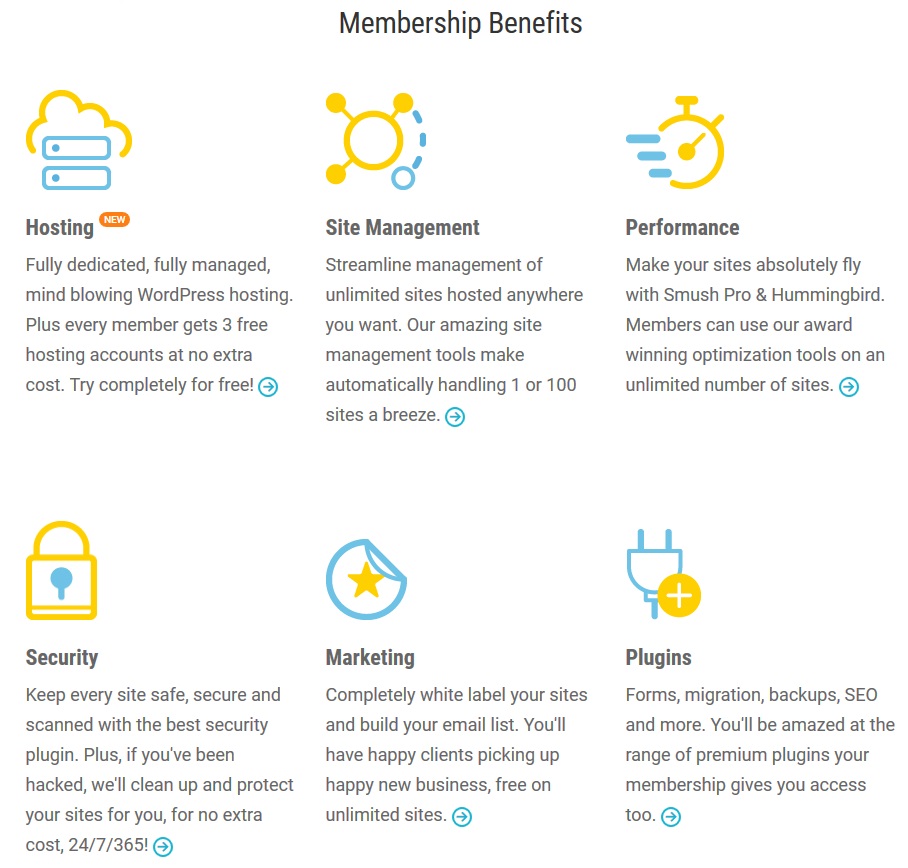 You've probably already heard about them. You've either already heard about their maintenance hub, one of their plugins, their support forums, or one of their extensive blog posts. They're a popular platform and already well-known among the WordPress community. The plugin portfolio by WPMU DEV includes plugins that are some of the most used plugins in WordPress overall, which include an SEO plugin, an image optimization plugin, and more. They have a hub where you can manage any WordPress sites, hosted at any other host. Take backups, update plugins and themes, track uptime, and more. You don't even have to use their own hosting platform to use the hub.
One of their recently introduced membership features is the WPMU DEV WordPress hosting. If you're a member, you can host 3 sites at their platform for free.
We'll go in detail and review their hosting platform below. We won't focus much on the hub or other features, there are plenty of other good reviews about them.
The WPMU DEV Hosting Dashboard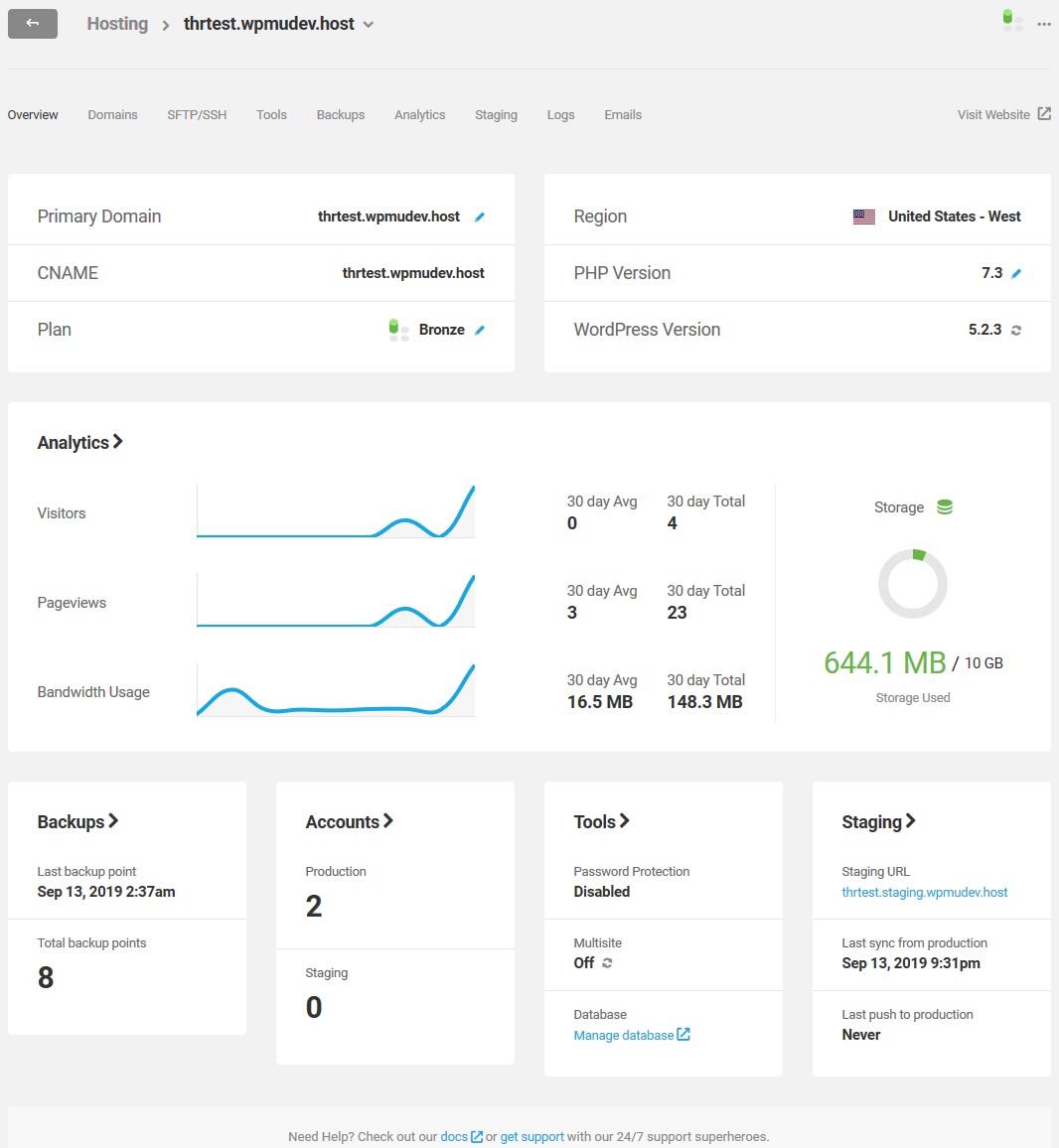 The hosting dashboard (control panel/hub) is one of the easiest and most user-friendly platforms we've come across. You can spin up a new site in seconds. Everything you need to manage can be done with a couple of clicks, including changing your PHP version, taking backups, creating SFTP/SSH accounts…You can even analyze your site's analytics right from the hub.
WPMU DEV Hosting Features
Their hosting platform is pretty feature-rich. We'll go over some of the features:
A staging environment where you can create new staging sites with a single click. It's usually a bit more complicated with other hosts. You can even push the staging site to production or reset it with a single click.
You can manage your database via phpMyAdmin, without having to log in each time, it's easily accessible with a single click.
A free domain is included (yourdomain.wpmudev.host), but you can add your own custom domain via the dashboard.
You can create separate SFTP and SSH accounts for each site.
A password-protect feature where the site is hidden from visitors and can only be accessed with a password. This is really handy if you're still working on a site, and want to hide it from the outside world. You don't have to install any extra "under construction" plugins. A password can be added with a single click via the dashboard.
If you have a site added to the hub, but isn't hosted at WPMU DEV, you can migrate the site to the WPMU DEV hosting via their platform.
The Analytics tab can be used to track views and used bandwidth, get live stats for CPU and RAM usage, live stats for PHP request, etc.
and more. You can get a free trial and explore their features. There are more features that are included in their hub, but are not a specific part of their hosting control panel, like updating plugins and themes, monitoring uptime, a white-label feature where all plugin names can be renamed and the WPMU DEV branding can be hidden from your clients, etc.
WPMU DEV Pricing
The WPMU DEV membership starts at $49 per month and includes all their plugins, the site management hub, and 3 free Bronze sites.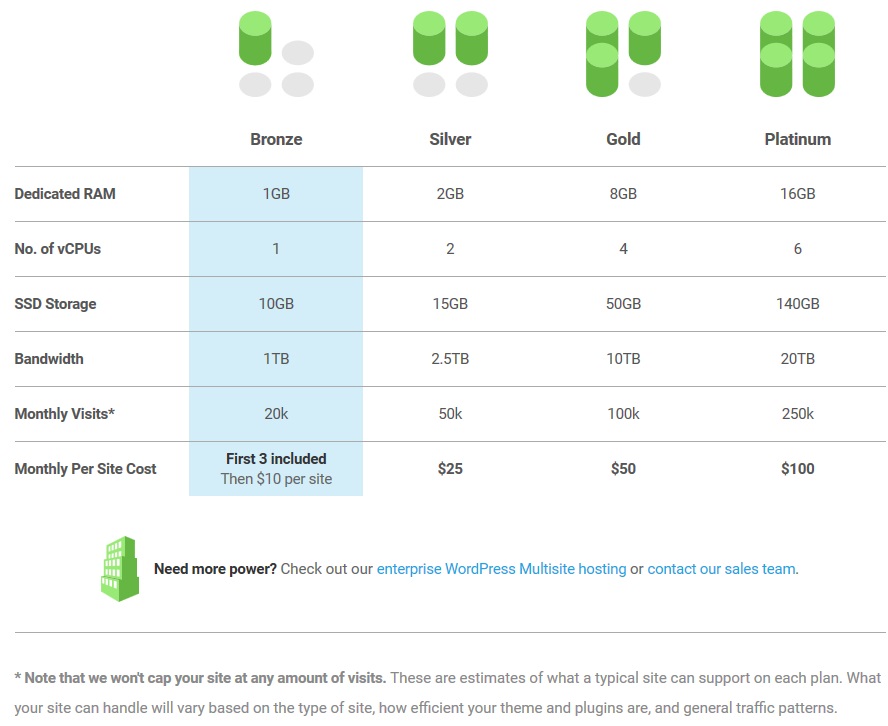 After the first 3 sites, the sites will be pilled per month, per site. There's a 30-day free trial when you first sign up.
Speed test
As per usual with other hosts, we did a simple speed test on a default WordPress site without making any changes.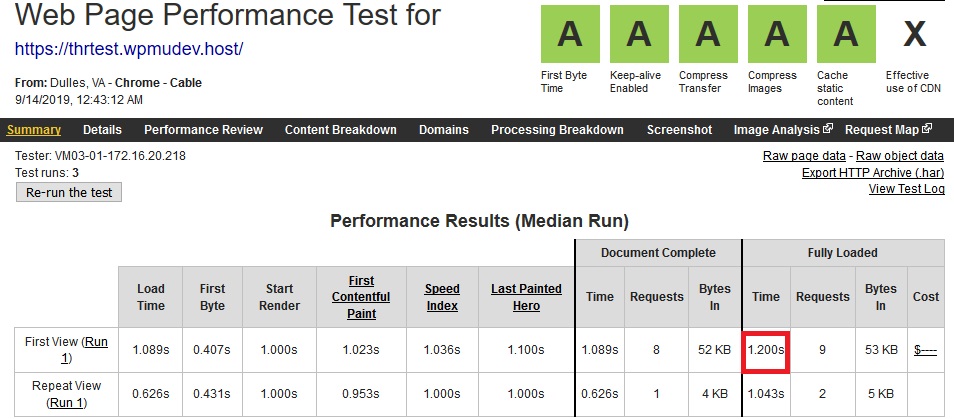 The homepage fully loaded in 1.2 seconds, which is a great result, better than most other hosts.
You can view the full test results here.
If you get a better plan or tweak the image compression, CDN, and caching more, you'll get better results. WPMU DEV has great tutorials on their site.
Pros and Cons of WPMU DEV Hosting
Here are the pros and cons of the WPMU DEV hosting platform, in short:
Pros:
The support team is super helpful and fast to respond. They are available 24/7 and reply within seconds via live chat. Aside from getting help with your hosting, you can also request support for anything related to WordPress, outside of the products WPMU DEV offer. So you can contact their 24/7 support for literally any WordPress-related issue, doesn't have to be related to their hosting or plugins. This is an awesome feature that not many hosts have. Most will only support your hosting account and not actual WordPress issues that are not related to any of their products. When creating a ticket, there's an option to make the ticket public, which can be accessed by the community and gives you better chances of solving your issue if you have the help of the entire WPMU DEV community.
The control panel (dashboard) is super-easy to use. Most things can be done with a single click, while all can be done with a couple of clicks max. One of the easiest platforms we've seen. It's feature-rich, yet easy to use.
You get actual cloud hosting (powered by DigitalOcean) with dedicated resources, hence the fast sites.
There are server locations available around the world, including the US, UK, Canada, Netherlands, Germany, India, and Singapore.
An SSL and a CDN are included by default for free.
You'll get a dedicated IP with each site for free. Perfect for many reasons.
Caching is included and enabled on all sites by default, for free.
Cons:
There's no built-in file manager with a GUI. If you're a beginner you might find it hard to use an SFTP account to access your file system.
You get some WPMU DEV plugins installed by default. This can go either way, some people may actually consider this a Pro. When creating a site, 4 plugins get installed and enabled by default. Defender Pro, Hummingbird Pro, Smush Pro, and WPMU DEV Dashboard. You need the last one to use the hub with all of its features, but you may not want the other 3.
Pricing can be pretty expensive if you only need the WPMU DEV hosting. Membership starts at $49 per month and includes 3 free Bronze sites. If you want their plugins and the maintenance platform, then it's a great deal. If you need a better hosting plan you'll need to pay upwards of $25 per month per site on top of the membership fee. You get what you pay for after all.
There's no option for user/access control, as in creating a sub-user for a client or a developer. There are workarounds like creating an SFTP/SSH account and sharing the password or creating a WordPress admin account, but other managed WP hosting platforms do have the option to share access to separate users. Seems like they're already working on a feature like this, but there isn't any as of writing.
Conclusion on Our WPMU DEV Hosting Review
All in all – they're a great option. Easy to use, fast cloud hosting with lots of features, especially if you decide to use their hub with all their plugins. Everything just fits and works perfectly. They aren't the cheapest though, so if you expect quality support with lots of features, you've got to pay for it.
Bear in mind that this is still a fairly new hosting platform so you may notice some oddities here and there. Make sure to report them.
They're always improving and they always accept feedback and feature requests from the community, so you can expect more features and improvements soon.