SShield
Pros
Built-in, configured, and enabled by default
Unlimited 24/7 protection
AI-powered, doesn't rely on virus databases
Successfully blocks 99.998% of attacks
Instant and automatic notification if malicious activity is detected
Cons
Only available with SPanel
We'll be reviewing SShield, which is a part of SPanel. After the great interest of our SPanel review, it's a great idea to focus on individual parts of SPanel itself, like SShield. You'll find out what SShield is, its features, and more. Read our detailed review below.
What is SShield
SShield is a security tool that monitors all your website in real-time, 24/7. The tool is 100% automated using AI and the moment an attack occurs, you'll get a detailed report on what has happened and how to fix any vulnerability. You don't have to have any knowledge about security, meaning that you don't need to configure anything, the tool is activated by default and runs for all your websites and code.
Features of SShield
Built into SPanel and activated by default. You don't have to do any extra work or update settings. This is a great feature for beginners. Or anyone really, knowing that you don't have to spend any extra time configuring the tool.
All websites are protected from spam, malware, and viruses. There's no limit to the number of websites. All code that runs on your server will be monitored and protected. All new websites and code are protected by default automatically. Which, again, means that you don't have to do any extra configurations even after adding new websites.
Websites and traffic are monitored 24/7/365. This means that the tool never stops working. You can have peace of mind knowing that everything is monitored without constantly checking the status of the tool itself.
Instant and automatic notification once (if) your websites are attacked with a detailed report. Your websites and account won't get blocked the moment the hosting provider notices an attack. After you get the report, you'll have time to fix the vulnerabilities.
Successfully blocks 99.998% of attacks. This is a great success rate compared to other similar security tools.
Regularly pen-tested and audited by RACK911 Labs. Another reason you can trust to tool being vouched for by a leader in security like RACK911 Labs.
Powered by AI. SShield doesn't rely on virus databases or hashes like most other security tools. It uses advanced machine learning to detect changes and vulnerabilities in your code and websites.
You can learn more about SShield and how it works here.
What makes SShield different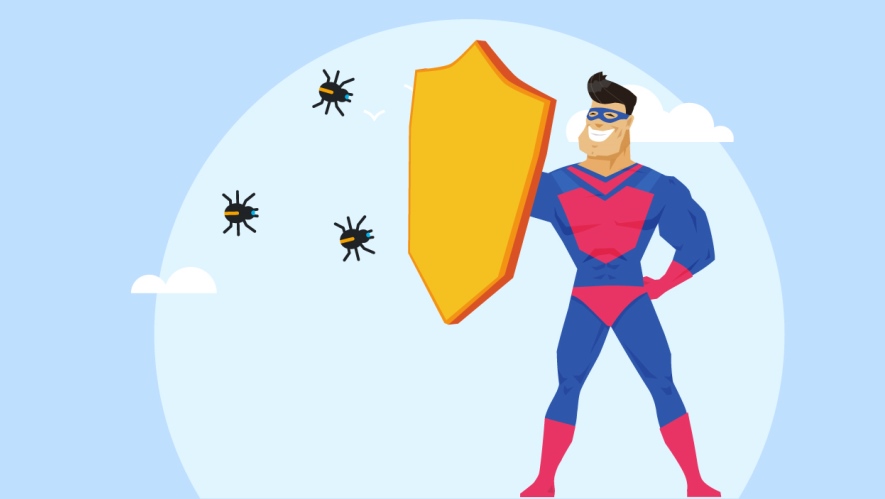 Knowing its features, one of the most important features is that it uses AI to inspect your websites and detect malicious activity. This means that SShield doesn't use virus databases and hashes. Not all viruses get uploaded to the virus databases, sometimes they aren't at all. Relying on databases is a bad idea if you want to be able to act quickly or if you want to be more protected from all kinds of attacks, not just the popular ones that are already in the databases. This feature alone puts SShield above other security tools of its kind.
The other feature that really differentiates SShield from the other security tools that most hosting providers use is that they don't automatically block your account or websites immediately after the malicious activity has been detected. You do, however, immediately get notified with a detailed report and instructions on what your next steps should be. SShield runs 24/7, so once you fix the issue, the case will be automatically closed. Scala Hosting offers managed hosting plans with 24/7 support, so you'll always have their help available to fix the issues.
How to get SShield
As mentioned earlier, SShield is built into SPanel by default, so to use SShield you need to use SPanel. As of writing, SPanel is used by Scala Hosting and VIVACOM. This limits your options, which is a downside to SShield, that you can't use the tool on any website or other control panels.
If you want to get better security for your websites and code, we suggest you sign up for Scala Hosting and start using SPanel and SShield. You can use our exclusive coupon to get a discount. Scala Hosting is one of the best hosting providers we've used and tested, and we've been recommending them for years.
Aside from SShield, with Scala Hosting, you also get email spam protection and monitoring as well as fully managed 24/7 support if you get one of their managed plans. If you're using WordPress, the SWordPress Manager will help you with extra security with your WP websites.
It's important to know that SShield should not be your only security measure. You still need to use proper code and follow basic security guidelines when running websites. You can also use additional security tools to inspect and monitor your websites on top of SShield. The more the better.
So all in all, especially with the help of SShield, your websites will remain safe and secure. Just start using SPanel and have peace of mind knowing that your websites are being monitored and protected.