SPanel is a new control panel developed by Scala Hosting. It's an "all-in-one" platform you can use to manage your server, take care of backups, security, and more. It's a great alternative to cPanel. Learn more about SPanel and read our review here.
About SPanel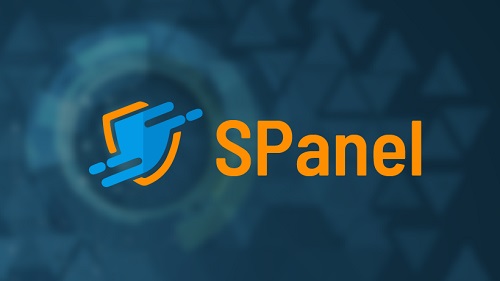 After years of hard work, testing, and developing, Scala Hosting have finally released their new control panel. Last month, they released the second version of SPanel with many improvements. We're all familiar with Scala Hosting already. We've been recommending their services for cloud hosting and managed VPS for years. They're one of the best in the business.
As of writing, you can try SPanel if you get a cloud server at Scala Hosting or VIVACOM. More hosting providers are expected to join the SPanel train.
SPanel Features We Like
SPanel has plenty of features that help you manage your servers and websites. We'll go through some of them here.
Integrated and automated security with SShield
SPanel Shield secures your data, and monitors your websites 24/7. It blocks 99.998% of the attacks. If an attack does happen, which is unlikely, you will get notified immediately with a report of the affected data. The detailed report will help you secure and sanitize the affected data.
Daily backups to remote servers at no extra cost
SBackup will take daily backups to remote servers at no extra cost, and it's built into the panel. Aside from restoring a full backup, you can also browse through the backups and restore individual files and databases, or whole directories. Being able to restore a single file out of a backup is very useful.
NGINX as a reverse proxy
SPanel uses NGINX as an Apache reverse proxy which ensures you get the best speed and performance for your websites.
LiteSpeed and OpenLiteSpeed support
Both LiteSpeed and OpenLiteSpeed are supported. LiteSpeed is free for 1 website on at least a 2GB RAM VPS, and OpenLiteSpeed is free for unlimited sites. There are caching plugins available for most apps, including WordPress. You can rest assured you'll have a faster website.
cPanel compatibility
SPanel is compatible with cPanel, which means you can migrate all your data from your cPanel server to an SPanel server. You get unlimited free migrations if you use an SPanel VPS from one of the partnered hosting providers.
If you're running a web hosting business, you should contact the team at SPanel and look into integrating the control panel with your servers. It's a seamless transition from cPanel.
If you've been using cPanel for a while, you'll have no problem adjusting to the SPanel interface. Its interface is intuitive and similar to a standard control panel UI for a server, including cPanel.
WordPress Manager
You can use the built-in WordPress manager to create new WordPress sites with a single click, enable auto-updates, enable security features with a single click, and more.
You'll be able to create staging sites soon. They're still working on this feature. The auto-updates and security features with a single click are awesome.
It's free
You'll get SPanel included for free if you get a SPanel VPS, which makes it a great alternative to cPanel. With the cPanel price hike this year, SPanel was released in just the right time, when everyone is looking for an alternative.
Other notable features
SPanel has a lot more useful features like Let's Encrypt integration, an API, WHMCS integration, PHP 7.3 support,  and more.
The SPanel Interface
The SPanel UI is easy to use, even for beginners that are not familiar with any control panel. The design is responsive and works well on all screens. Every section is self-explanatory and intuitive.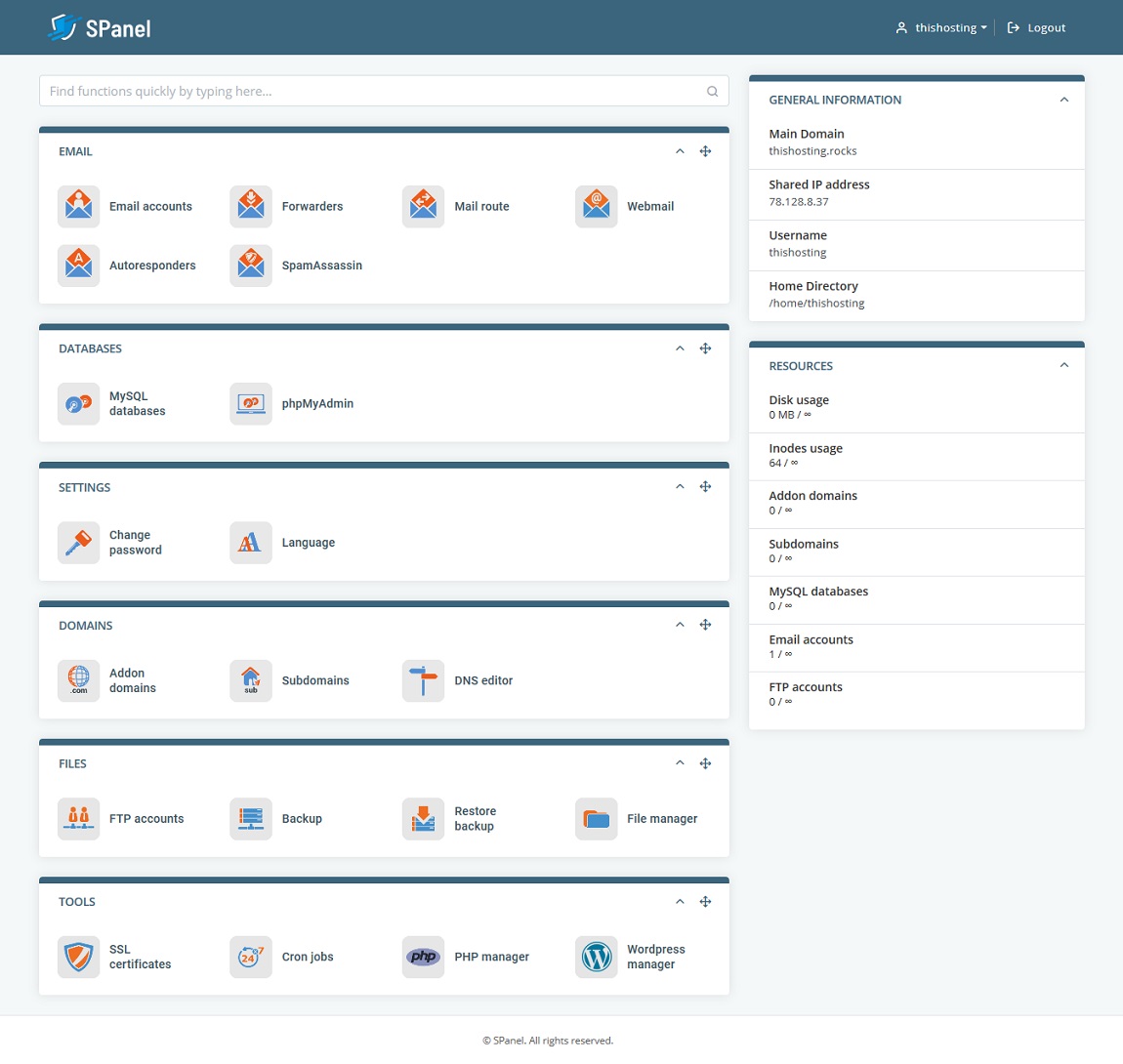 You can use it to manage everything about your sites, emails, databases…
The file manager has a responsive design which is great for smaller screens.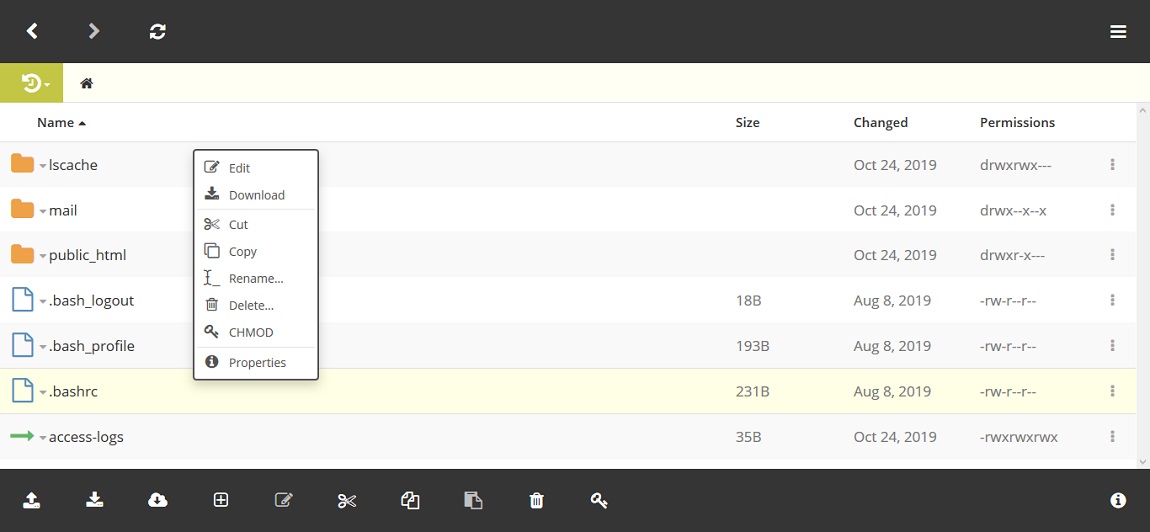 SPanel uses RainLoop for webmail, which looks great and has a mobile version.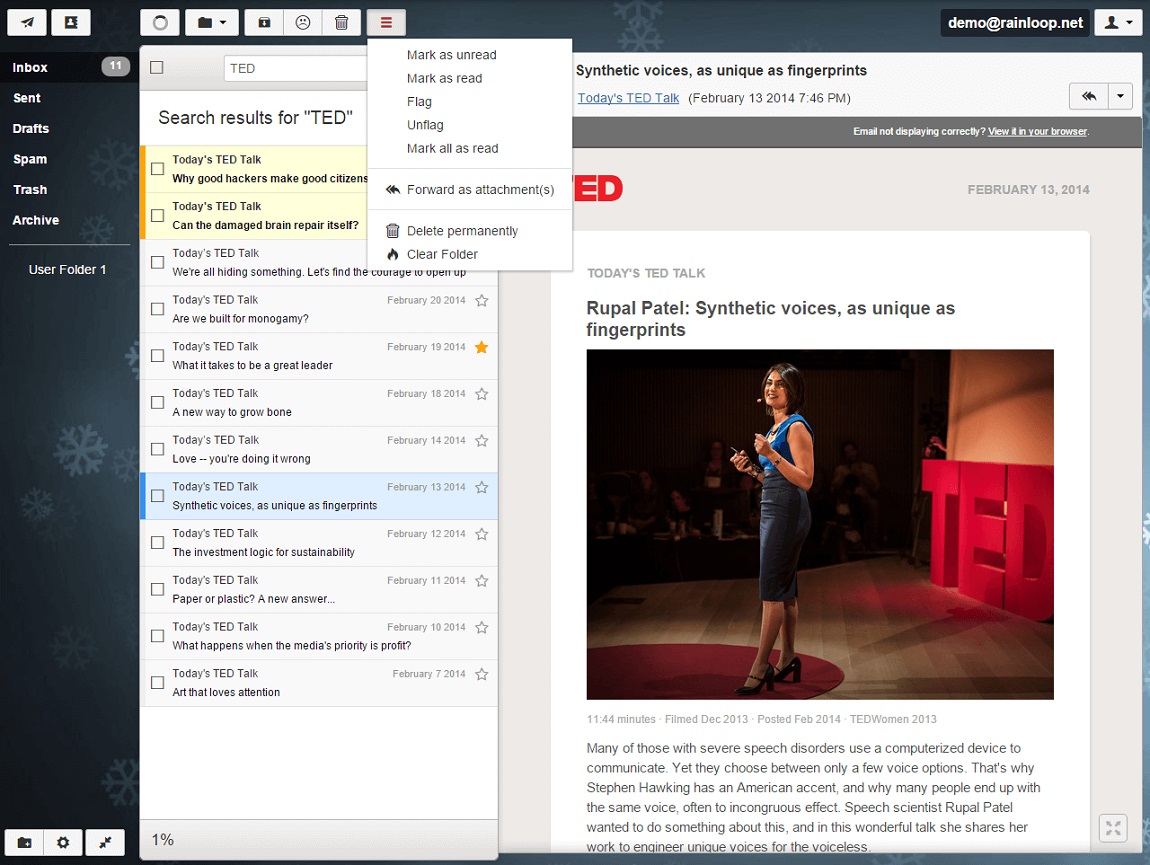 With the admin interface, you can monitor your server, restart services and the server itself, and manage user accounts. Everything is integrated into the GUI, so you can do everything without entering a line of code.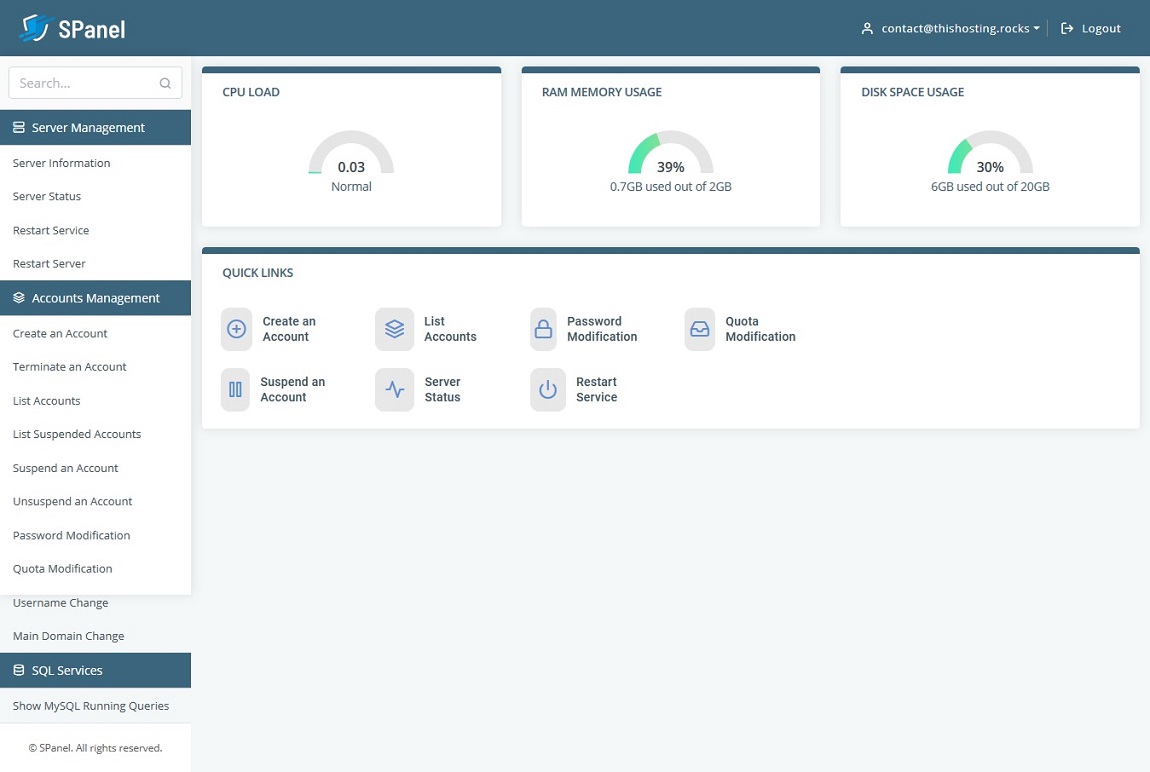 You can check out more screenshots of the UI at spanel.io
What we don't like about SPanel
The first thing we noticed is that there are not enough 1-click installers or easy integrations with other self-hosted software. Aside from WordPress, other apps should be supported too, like Magento, Joomla, Nextcloud, etc. If a 1-click installer like Softaculous is integrated then this will take care of most popular apps.
Not enough providers offer SPanel as of writing. The only 2 available providers to choose from now are Scala Hosting and VIVACOM. While both providers are great options, it's always better to have a lot more to choose from. More hosting providers are surely going to implement SPanel once they learn more about it. So you should either ask your hosting provider if they are planning on implementing SPanel or just migrate to Scala or VIVACOM.
A free hosted demo to try out the panel would be great. You can't really experience the panel through screenshots.
The SPanel is still fairly new, so new features and improvements are expected.
Conclusion – Try it Out
All in all, it's a great control panel for first-time users and it's a great alternative to cPanel. Considering that the panel itself is free and pricing at Scala Hosting and VIVACOM is pretty cheap, you'll save big if you migrate.
You should all at least try it out. It's pretty cheap, cloud servers at Scala Hosting start at $12 per month. If you use a coupon you can get it down to below $10.